We are so excited to share that you can now apply to our Homeownership Program entirely online! With our new and improved automated process, you can learn about our affordable Homeownership Program, find out if you're eligible to apply, AND submit an application—all online at your convenience.
The online process is new to all of us, so below are answers to questions you might have. Of course, if you have additional questions about our buying a home with an affordable mortgage, please contact us at apply@tchabitat.org.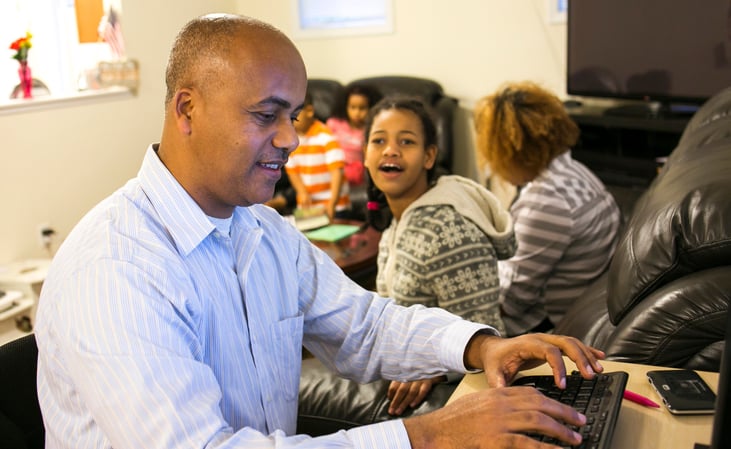 How does the online application process work?
Below are the steps to complete the online application process. You must take these steps in the proper sequence to get all the information you need to succeed:
Provide basic information to get started and help determine your eligibility for our program. We encourage you to watch an informational video that lasts about 12 minutes and contains important information about Habitat's Homeownership Program. Note: We recommend that you complete the eligibility questionnaire on a computer or tablet. The form may be too complex to complete on a mobile device.
Find out if you're eligible to apply – After you submit your answers, you will receive an email indicating if you are eligible to apply for our Homeownership Program. If you are eligible, you'll gain access to our online application and Habitat Homeownership Portal for applicants. If you're not eligible to apply at this time, we'll provide resources for how you might work toward meeting our criteria.
Complete your online application, upload necessary documents, and get ready to work toward homeownership!
What happens after the application?
If your application is accepted, you'll take the next steps on the Habitat Homebuyer Journey.
What if I don't have a computer?
The online application process described above can be completed on any computer with internet access. Most local libraries provide access to computers. Check if your local library has computer access. If you need additional support, we are happy to help you through the application process. Please call our Programs Information Center at 612-540-5660 or email us at apply@tchabitat.org if you have questions.
Why did the application process move online?
We want our Homeownership Program to be accessible and efficient for households with busy schedules. We know you have a lot going on, so we're excited to offer a quicker way for you to find out if buying a home with Habitat is right for you.
What changed from the previous process to the new process?
Previously, each step of the application process required an in-person meeting. For some households, it could take weeks or months just to reach the point of submitting an application.
The online process means you can complete the process in just an hour or two, quickly bringing you closer to affordable homeownership with Habitat. Plus, we're still available to answer questions you may have along the way!
Are you ready to get started?
Click below to learn more about our program and start your Habitat homebuying journey today!