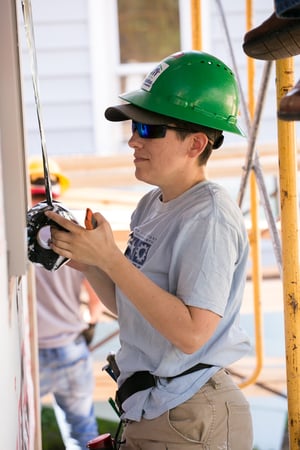 Wendy Harris is a giver. She gives her time, her talents, her knowledge, her friendship, her physical labor, and even her money to others in an effort to make someone's life better, to make the world a better place.
From September to mid-June, Wendy works as a social studies teacher at Metro Deaf School in St. Paul, where she also teaches braille and technology to DeafBlind students and coordinates the DeafBlind club. During her summer breaks, she volunteers at Twin Cities Habitat for Humanity. We are honored to have the support of volunteers and donors like Wendy. Here's her story.
A Longtime Volunteer
In 2010, while on summer break and after realizing she could volunteer without being part of a specific group, Wendy volunteered for her first Twin Cities Habitat for Humanity home build. The experience left a lasting impression, and soon, she began volunteering in other areas.
"I typically work 10-15 days a summer on Women Build, a group of women who build two Habitat homes and repair another each year, and Rainbow Build, a special build including the LGBTQ and Allied community," Wendy says. "I also try to get to one general build a month during the Tuesday through Saturday season, and I help lead the youth workshops when it fits my schedule."
Wendy loves building homes and relationships with staff and fellow volunteers. "I really enjoy working at the same site for multiple days to see progress and get to know the staff and routine," she says.
She also likes making volunteering accessible to her deaf friends by inviting them to join her. "I like helping people learn new skills on the site," she says. "I spent my first day as a volunteer cleaning the site with the homebuyer because that was the only word I recognized on the list of tasks. If I can learn how to do all the different parts of building a house, I know everything is teachable!"
Providing Monetary Donations
When Wendy saw the need for monetary donations in addition to volunteer work, she stepped up once again. "I know that both the physical labor and cash to purchase supplies and run the operations are important, so I have decided to do both," she says.
Wendy is now a member of the Carpenter's Club, a group of donors who commit to making weekly or monthly monetary donations to support Twin Cities Habitat for Humanity's mission to eliminate poverty housing from the Twin Cities and make decent, affordable shelter for all people a matter of conscience. Specifically, though, these donations help us combat costs associated with construction and repair work, and help us keep mortgages affordable for our homebuyers. And the more regular donors we have, the more home builds we can guarantee year after year.
As a teacher and regular volunteer, Wendy understands the severity of the housing need in the metro.
"I work with some students who have precarious housing situations, and I also know that housing is tight in the Twin Cities," Wendy says. "This is one way that I can help make a difference while also building my construction skills and getting some exercise and meeting interesting people. (I like to call setting up and taking down scaffolding a 'full body workout.')"
As a way to thank our regular donors like Wendy, club members receive 500 points (which equates to dollars) to spend in our online volunteer store, where we sell Twin Cities Habitat for Humanity merchandise. Club members also receive discounts at Habitat's ReStore Home Improvement Outlets in St. Paul and New Brighton.
To donate, you can set up a secure recurring bank transfer or credit card donation, or automatically round up every purchase to the nearest dollar.