Judy Van Osdel has been supporting Twin Cities Habitat for Humanity since 2007 by making donations and volunteering on site. Her relationship with Habitat has grown from volunteering with coworkers to building with four
Global Village
trips to Costa Rica, pictured below. What keeps Judy coming back to volunteer year-after-year?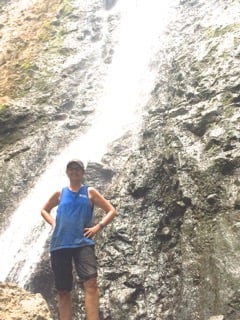 Knowing that the deserving family she is helping will have a safe place to call home.
"I believe in the mission and that everyone deserves a decent place to live and it's a way to break the cycle of poverty."
Judy lives out her passion for improving the Twin Cities by donating monthly to Habitat as a member of the Carpenter's Club.
She believes that without the work of Twin Cities Habitat, "there would be a gap in the housing market for those who can't afford the traditional method of homeownership."
Judy saw firsthand the mission of Habitat during her most recent trip to Costa Rica when she saw how a Habitat home enabled a family to gain stability for the future. Her previous Global Village team built a home for a mother, father and three children and last March she had the chance to revisit.
"We didn't even recognize the house because the family was able to add a car port and storage to the house."
The connections Judy forms with the families are what make her volunteering special. The team works everyday with the partner family to build the house and during this time, lasting relationships are made. Revisiting the family reaffirmed what Judy already knew; habitat homes provide permanent change for families.
Judy plans to attend more Global Village trips in the future and enjoys working alongside other Habitat supporters who believe in the benefits of owning a home. If you would like to join others in the Twin Cities who feel passionately about homeownership, become a member of the Carpenter's Club with a monthly donation. By making Habitat a priority, your monthly gift will help sustain and shape the housing landscape of the Twin Cities.
New Carpenter's Club members will have their first year of giving matched up to $5,000! Members enjoy the ease of hassle-free secure automatic payments made online and receive benefits such as event and ReStore discounts.