For Jake Loesch, advocacy has been a recurring theme in his personal and professional life. Whether engaging with constituents as a legislative assistant in the Minnesota State Senate, working on the Minnesotans United campaign to legalize marriage for same-sex couples, or lobbying the Legislature on education policy and funding, each opportunity to advocate has demonstrated to him the importance of using your voice, power, and relationships to impact change.
A longtime admirer of Habitat's mission, Jake's opportunity to bring his advocacy experience to Habitat came when Multiplying the Impact Campaign Council member Jim Mulrooney invited him to become more deeply involved.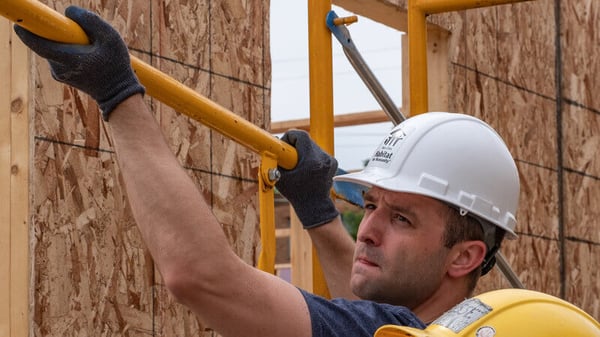 Campaign Council member Jake Loesch volunteering on a Habitat build site.
Since most of Jake's career has revolved around the Minnesota Legislature, he jumped at the chance to help launch the first-ever Red Blue Build, a build day specifically focused on state legislators from both parties coming together to work on a Habitat home.
"It's easy to see the political disagreements in news headlines and feel dismayed about the state of our politics," said Jake, "but I wish more folks could see what I know to be true: there is actually a lot of bipartisanship and teamwork that happens at the Capitol."
Bringing members on site for a day was a fantastic opportunity to showcase that collaboration by putting aside divisions and working together towards a common good.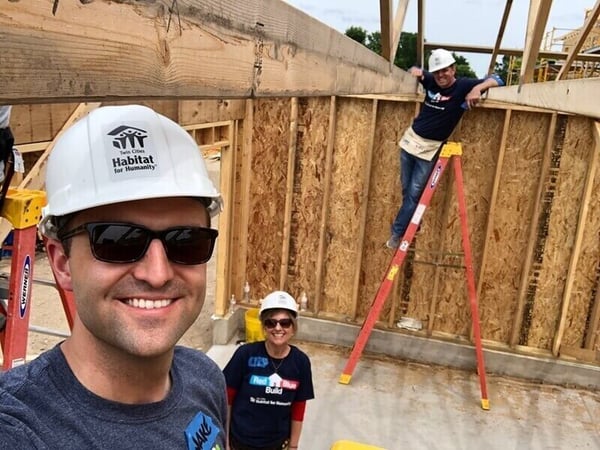 Jake poses with Representative Kristin Robbins (R-Maple Grove) and Representative Michael Howard (D-Richfield) at the Red Blue Build
Jake shared that even after more than a decade of advocating for many different issues that he cares about, he can still get nervous about speaking up. What helps him find his confidence is knowing firsthand how much state legislators value correspondence from their community and constituents – they want to hear from you!
"I always encourage people to remember that legislators deal with a lot of issues on any given day, and they can't all be experts on everything," Jake said, "and that's where you come in: sharing your personal story and experience is a really powerful way to build allies and champions in the halls of the Capitol."
Advocacy could mean writing an email to your elected official, working on a campaign, participating in a march, donating money, or volunteering your time and skills to an organization that you care about, as Jake has done with Habitat. Even if you're someone who has never advocated before, sharing why an issue is important to you can make you feel energized and excited. Plus, advocacy is a team sport.
"I guarantee you'll quickly find others who agree with you and want to be a strong advocate, too!" said Jake.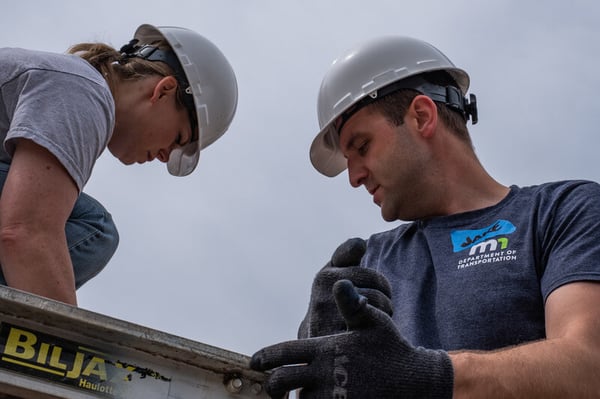 Representative Anne Neu (R-North Branch) working with Jake during the Red Blue Build
When asked what inspires him about Habitat, Jake explained that while Minnesota is a great place to live by many metrics, we must acknowledge that isn't the truth for everyone in our state. Having a safe place to call home is critical to every other aspect of life, from a parent's ability to focus, be present, and achieve at work to a child's success in school. Habitat's work focuses on the root of the problem, empowering families to create that foundation for a safe and stable life and supporting them every step of the way.
"I know how much homeownership has meant to me and my family," Jake shared. "Home is the place where memories are made, where my wife and I are watching our son grow up, and where I feel comfortable and safe. Home is our community, surrounded by family, neighbors and friends who have our back and look out for us. Home is the foundation of my life. It's more than just the physical building, but it's what that building represents: security, shelter, and stability."