Guest Post By a Twin Cities Habitat Staff Member
"Volunteerism is the voice of the people put into action. These actions shape and mold the present into a future of which we can all be proud." - Helen Dyer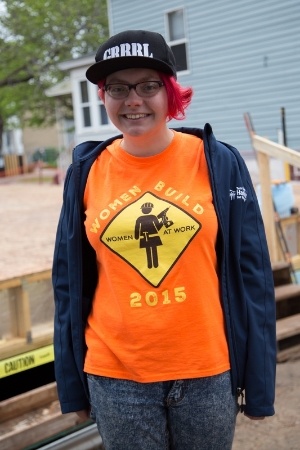 April 10th-16th marks National Volunteer Appreciation Week. 17,000 volunteers partner with Twin Cities Habitat for Humanity (TCHFH) in many different capacities year-round. As the current Volunteer Coordinator this year (a one-year AmeriCorps service position), I connect with current and potential volunteers on the phone, through emails, and in volunteer orientations. You may also find me out on site this summer, delivering cookies to thank other volunteers for lending their time and talents to creating safe and stable housing for our community.
While I've been in this position for almost eight months, I've been working with volunteers in other capacities at TCHFH for the last two years as well, both out on the construction site and in scheduling faith & Thrivent groups. My job has a lot of organizational, technical stuff with collecting data and other administrative things. It's all related. My favorite part though, is connecting with you all—with volunteers—and helping you find the right opportunity that fits in with your interests, passions, schedules and Habitat's programs and mission.
One thing I'm struck by each time is how different you all are. We have so many different ways to volunteer at Habitat and 17,000 people who volunteer in a year. There's got to be 17,000 different reasons for volunteering, 17,000 unique perspectives. I wouldn't be surprised if we also found some commonalities. Please comment below to let us know why you volunteer at Habitat. What do you enjoy about the experience? What makes you want to come back and volunteer again sometime? How does volunteering with Habitat fit into the framework for the world you want to create?
This week, one of the ways we'd like to recognize you is to invite you to join the conversation, just like this. As our volunteers and community members, your voice is valuable and your perspective is interesting. Each day this week, we'll have a different blog post about volunteers or an aspect of volunteering with Habitat. By commenting thoughtfully on our blog posts or on our Facebook posts this week, you'll be entered into a drawing for a chance to win some prizes. You can also earn additional entries into the drawing by signing up for our Volunteer Newsletters and last minute volunteer emails. (These emails are scheduled, and we aren't going to flood your mailboxes.) If you've already registered for these emails, signing up or expressing interest during this week for a future volunteer opportunity is another way to get into these drawings. Please read more about the rules and the prizes here.
Again, thank you all for everything you do! Because of you we're able to make a huge difference in the Twin Cities area eliminating poverty housing and making decent, affordable shelter a matter of conscience for all.