Guest Blog by Caitlin Magistad,
Twin Cities Habitat Advocacy Staff
Minnesota's legislative session starts today! With more than 580,000 Minnesota households paying more than they can afford for housing, we're anxious to be back at the Capitol working to ensure that all Minnesotans have a safe place to call home.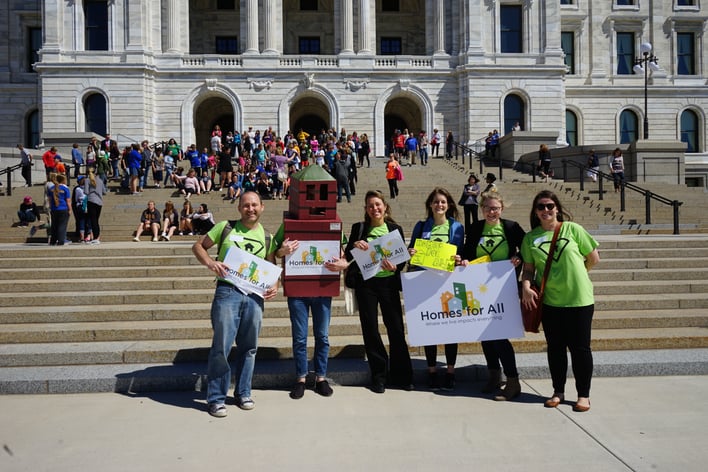 Twin Cities Habitat staff join "Bill Ding", the Homes for All mascot, on the front steps of the Capitol in 2017!
Where we live impacts every aspect of our lives; the groceries we buy, where we send our children to school, and what jobs we can access. When families have stable housing, they can focus on work, school, and their health, which helps to strengthen our communities along the way. Twin Cities Habitat, as part of Homes for All, will request $140 million in bonding investments for safe, stable, and affordable housing across the state.
Twin Cities Habitat supports a strong bonding investment in affordable housing because bonds for housing aren't just an investment in homes, but an investment in jobs, education, economic development, and the entire community. $140 million in bonds for housing would:
Develop or preserve housing for 4,650 households across the state
Support 2,000 jobs working directly on housing projects and for suppliers
There isn't one kind of housing that fits the needs of every Minnesotan. Bonding resources create new and preserve existing rental homes, support emergency shelters, make improvements to the state's public housing and promote homeownership. To meet the needs of all Minnesotans, we need these resources to be available for senior and manufactured housing projects, as well.
We know that Minnesota will thrive when everyone has a home--children learn, workers earn, and seniors thrive when they have stable housing. Here's how you can help this session:
Sign and send this postcard to your legislators to share your support and urge their support of investments in housing.
Register Now. Join Habitat on Thursday, April 26, 2018, for Habitat on the Hill-MN at the State Capitol. Please register for this free event!
Take an hour to visit with your legislators at the Capitol. We will be happy to accompany you and provide all the information you need to meet with your legislators. Call 612-305-7102 or email to schedule a time that works for you!
Thank you for all you do to ensure all Minnesotans have a safe, affordable place to call home. We couldn't do all this important work without you!