Guest Blog by Molly Sina
Love and joy multiply. This is well-known in the Twin Cities Habitat for Humanity community. And there isn't a better way to observe and experience this than at our home dedication ceremonies.
On Saturday, April 27, 2018, we celebrated the home dedications of five families in the Hugo community, and on May 2, 2018, we continued celebrations for another family as they moved into their Minneapolis home.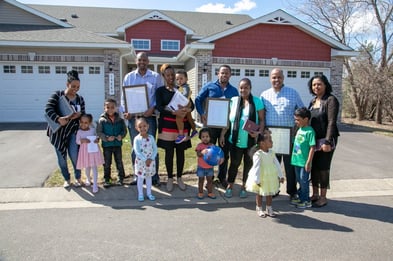 The volume of families and supporters present at the dedications was both incredible and overwhelming. In Hugo, Win Curtis, a member of the dedications committee, was the master of ceremonies. With three of the families already in their homes, Win wanted to extend a warm welcome to all but especially to the families that had not moved in to their new homes yet.
Father Greg Esty from the Church of St. Genevieve gave the opening prayer, welcoming all to the space and speaking on the sense of a loving community we were all building together.
"This group of people gives you hope. This is a community of justice, love, and peace"
-Fr. Greg Esty
Netsanet and Yared were homeowners that moved in months ago. "I can't tell you I'm so happy, thank you very much, God bless you" said Yared.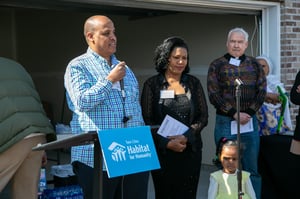 Abeba shared a touching story about her journey and how much this day meant to her. "I just want to say thank you to everyone, for everything you do for us. I remember when my son was two, the apartment we lived in told me that I needed to move out. I told them that one day I would own a home and have a home for my son. All they said was 'good luck with that,' but now I do!"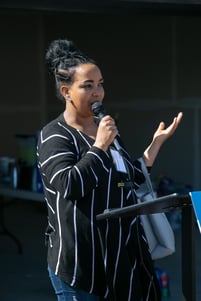 Kedist and Adugna were also waiting to move in to their new home and were overwhelmed with thanks. "First, thank you God, and thanks all of you including those in the office and at homebuildings; thank you for your hard work, thank you for your care, thank you for your dedication, thank you for your accomplishment. God bless you all."
The last family of the five present at the dedication had moved in on February 7; Elisabeth and Mekuria love their home and are very happy with where they are now.
McKinsie Clyde was the site supervisor for the five homes built in Hugo. "There were lots of big donations here, it was an awesome build, and these families are incredible." She shared stories of the times the crew was building the homes, going back to the first week of summer when they first began the build. "Thank you all for your hard work."
Karen Dyck, member of the Twin Cities Habitat for Humanity dedications committee, closed the dedication with a few words and a prayer, "while a house is made of walls and beams, a home is made of hopes and dreams"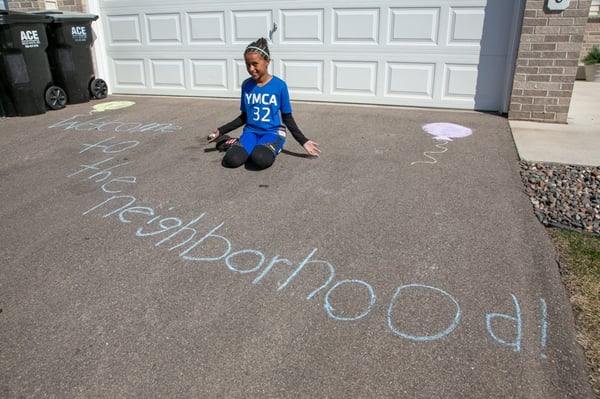 The celebrations continued later that week when we welcomed James and his three children into their new home. As James said a few words it was clear how important this day was to him and his family. His three children and older sister were by his side to support him.
"The past year was hard… I've been working two jobs to make his happen. It feels like a dream, it really does. It was hard at times but I feel so happy, so proud, and so blessed."
-James
Financial Coach Adade Amenounve worked with James each step of the way in the process of him becoming a homeowner. "James came in ready to rock and roll. This is one hard working man, I will testify on that." Adade continued to share his pride in James and how happy he was for his family.
The site supervisor for the home, Ashley Rose, attended the dedication with her family. "There are a lot of love notes written in these walls" Ashley said. "This home is special in more ways than one." From the home being part of the Minneapolis Home Tour to being featured on the news, many people have seen how special this house truly is. So much love went into making this moment a reality.
Sue Haigh, Twin Cities Habitat President and CEO, affirmed Ashley's comments. "We are so happy to welcome you into your new home. We cannot wait to see you all grow and see the love multiply in this home."