Guest Blog by Julia Schafer, Engagement Associate
Happy National Volunteer Recognition Week! At Twin Cities Habitat, we know that our volunteers are some of the most passionate, caring, hardworking people. We could not do the work that we do without you and the skills and energy you share with us every day.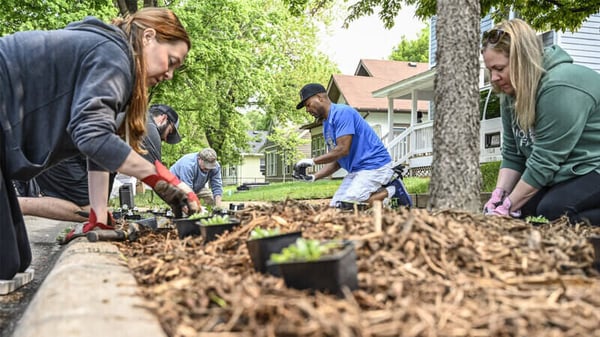 Photo of volunteers planting during Jordan Week of Kindness
We also know that it can be so hard to sit idle during a moment of crisis. So, during this time where social distancing is necessary for our health and the health of our community, we want to provide our amazing volunteers and supporters with some ways to lend a hand, even a virtual one.
While Twin Cities Habitat has temporarily suspended volunteer operations, there are plenty of other organizations that need volunteers.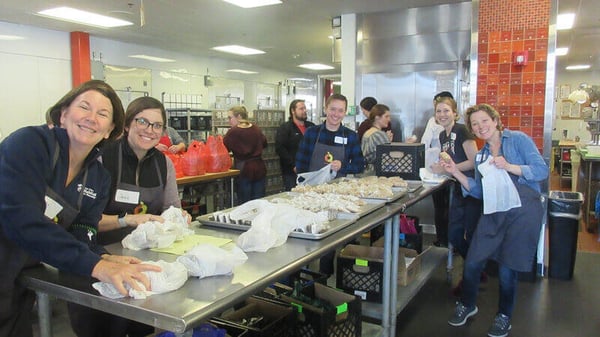 Food security has become a really important issue as we continue to shelter in our homes. There are so many organizations that are working to connect people to food resources in the Twin Cities, but here are a few to get you started: Volunteer to deliver food with Meals on Wheels; prepare food with Catholic Charities of St. Paul and Minneapolis; serve older adults and food insecure populations in Hennepin County with East Side Neighborhood Services; or prepare emergency meals at Second Harvest Heartland.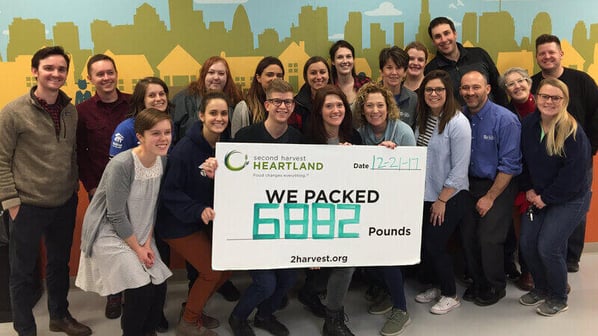 Photo taken before COVID-19: Keep social distancing!
Another way to support the community during the COVID-19 crisis is to donate blood. Organizations like the Memorial Blood Centers or the American Red Cross are looking for donors. Visit their sites to schedule a safe donation appointment.
A lot of our peer organizations in the Twin Cities provide so many different essential services, and their need for volunteers is larger than ever. Check out the different volunteer opportunities at Lutheran Social Services, or volunteer virtually or meal prep in your own home with St. Stephen's Human Services.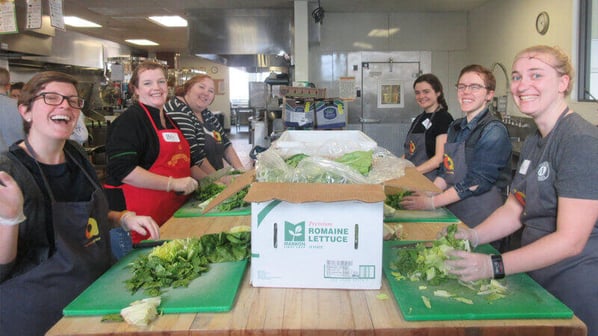 There are also virtual ways to volunteer. You can become a Reading Volunteer for State Services for the Blind, or volunteer remotely to transcribe historical documents for the Smithsonian Museum. If you're interested in making a social connection, you can also volunteer to call residents at Longfellow/Seward Healthy Seniors.
This is by no means an exhaustive list of volunteer opportunities available right now, but it can be a jumping off point for getting involved.
Here at Habitat, our mission relies on volunteers, and every year so many of you show up to support us. Your passion for affordable housing and the strong ethic of volunteerism in Minnesota is so clear to us. In 2018, the Independent Sector estimated the national value of a volunteer hour to be $25.43 per hour. This last year our community volunteered 212,792 hours with Twin Cities Habitat for Humanity. That's $5,411,300.56 of donated time and skill. This includes our wonderful regular volunteers, who commit as much as several days a week to being on our construction sites, at our ReStore Home Improvement Outlets, or in our office.
Our lives have changed so much in the last few months, and many of us are looking for the community and normalcy that volunteering provides. Please know we're thinking of you and your families during this time, and are confident that the power of community will help us respond to this crisis.
Happy National Volunteer Recognition Week. Thank you for being a volunteer. We can't wait to see you again.