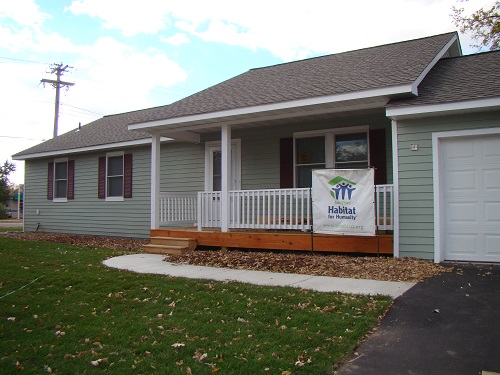 This blog mentions an out-of-date interest rate. For current information on Twin Cities Habitat mortgage interest rates, please visit our TruePath Mortgage page.
Buying a home is an exciting investment, but making the down payment can be a challenge. If your purchase includes a down payment, it's important that you pay the full amount—whether it's 3%, 20%, or somewhere in between—because it is a requirement of the loan product you are applying for. It's important to shop for which loan product is the best fit for you based on how much you can afford to pay in a down payment.
Saving for your down payment can take time, So many prospective buyers get creative in their ways of saving. Some individuals benefit from a monetary gift from a family member; others may use retirement savings or even take out a loan from a 401K account.
If these options are not available to you, you may have questioned whether you can take out a personal loan to fund your down payment. Although it is possible, we do not recommend it. Here's why:
Debt-to-Income Ratio
Your mortgage lender's decision to lend you the money to buy your house is largely based on a calculation called a debt-to-income ratio. Generally, the total debt payments that you make monthly should be below 50% of the money your household earns.
Personal loans are unsecured, meaning they have no assets backing them up, so they come with a higher interest rate. With this cost added to your debt-to-income ratio, taking out a personal loan may make you ineligible for more favorable mortgage terms.
Down Payment Tracing
Mortgage lenders want to know where your down payment money came from. As part of the underwriting process, they will look at your financial history for the previous year. If you've taken out a personal loan, which becomes part of your debt, it will show up here.
Down Payment Sourcing and Seasoning
Lenders will also look at how long the money for your down payment has been in your savings account. Lenders typically like to see that it has been there for at least two to three months to show that it hasn't come from a recent undisclosed personal loan.
Other Options
In today's world, it makes more sense to look for a loan with a smaller down payment requirement than it does to borrow.
Consider a piggyback loan, also called an 80-10-10 or a simultaneous mortgage. You pay 10% as a down payment and take out two separate home loans, one mortgage for 10% and the other for the remaining 80% of the purchase price of the home, thereby allowing you to avoid paying mortgage insurance.
Lenders offer low-down payment loans to qualified buyers, some as little as 3% of the home's purchase price. FHA loans, VA loans, USDA loans, and loans for first responders and teachers are all excellent low-down payment options for homebuyers.
Down Payment Assistance
There are more than 70 state and local programs in Minnesota that provide grants, matching funds, and low or no-interest loans to homebuyers. You can learn about them and check whether or not you qualify for down payment assistance through many sources online.
Given the assortment of loan types available on the market, there shouldn't be any reason to take out a personal loan for a down payment.
In fact, there are even some home loan options that require no money down at all. TCHFH Lending, Inc. provides a loan that allows borrowers to bypass the down payment altogether, and it's set at a fixed interest rate of 3.0%, 3.0418% APR.
Learn more about TCHFH Lending, Inc.'s unique TruePath mortgage product and whether or not it's the right home loan option for you.