Guest blogger:
Laura Tanner, Major Gifts and Planned Giving Officer
For many people, the holiday season is a time for reflection and gratitude. Last week, we took a morning to thank some of Twin Cities Habitat for Humanity's Legacy Circle members who have thoughtfully included Habitat in their will or retirement plans.
At the appreciation breakfast, President and CEO Susan Haigh gave an update on strategic plan progress to multiply homeownership opportunities. Our Homeowner Development team also shared stories about financial coaching, referral partners, and new ways that Habitat is working with families on their path to homeownership.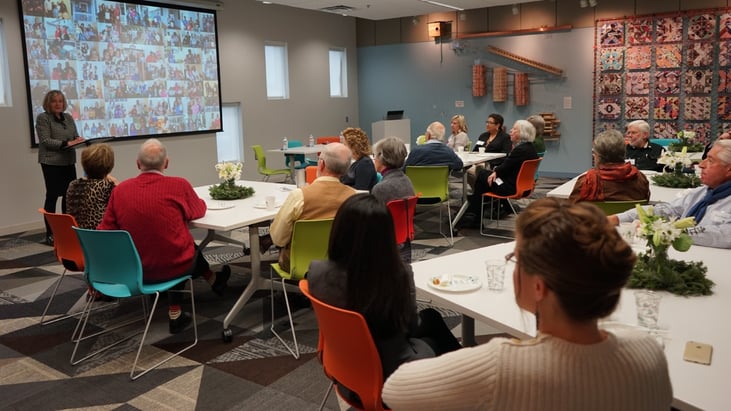 At Twin Cities Habitat, homeownership is a foundation where families build brighter futures. It impacts health and education outcomes, social connections, and quality of life. It impacts everything. And when that homeownership is affordable—like it always is with Habitat—families can truly thrive.
Legacy Circle donors make it possible for more families to build strong foundations through homeownership, a community impact that grows greater with each generation.
This time of year is perfect for thinking about the year ahead. If one of the things you'd like to accomplish in 2018 is creating or updating your estate plan, make this the year it happens.
Including Twin Cities Habitat for Humanity as a beneficiary of your will or retirement plan is easier and more affordable than you might think. Everyone can make a meaningful difference with a planned gift and Habitat staff are happy to assist and answer any questions you might have to get started.
For more information on ways to give, visit our Planned Giving page or contact us directly at gifts@tchabitat.org.
If you have already included Twin Cities Habitat in your will or retirement plan, thank you! Please let us know so we can ensure that your gift will be used as you intend and we can add you to our Legacy Circle.