---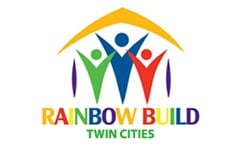 Rainbow Build is a special, week-long initiative that brings together awareness of affordable housing programs in the community and education about how to advocate for Lesbian, Gay, Bisexual, Transgender, Queer and Allied (LGBTQA+) families currently living without decent housing.
Throughout the week (August 24th-August 28th) eighty-two volunteers, community supporters and family partners gathered to work together on two Habitat homes in Richfield. In addition to countless individual volunteers Rainbow Build hosted crews from Gay4Good, Hell's Kitchen, Target, Thomson Reuters and Voya Financial during the week.
Each build day was paired with conversations about barriers to affordable housing and an introduction to many of the advocacy programs working for LGBTQ families in the area.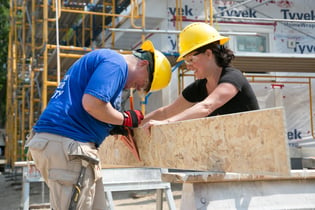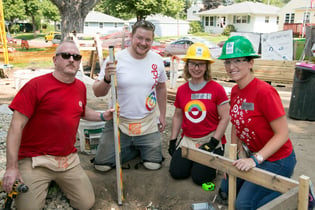 I was thrilled to join the team at one location where, despite the rainy forecast, our team was out working hard. The energy was infectious and the camaraderie immediate as we shared our passions for this project and how meaningful it felt to help a family achieve
homeownership
.
One volunteer, Kyle, a Community Ambassador from Hell's Kitchen remembers the joyful atmosphere being directly connected to the impact this home has for a family.
"We were able to help with a house that is being built for a family of 7, soon to be 8. This was our first step into our partnership with Twin Cities Habitat for Humanity and we are excited to continue working with them!"
Christina Gale, the coordinator for the Target staff crew recalls the calm, knowledgeable support of our fearless site supervisors, saying "Jake was very patient and understanding when I made mistakes."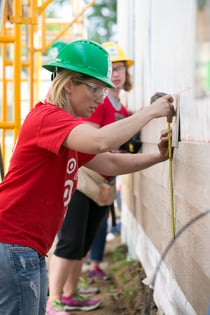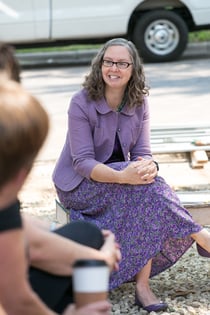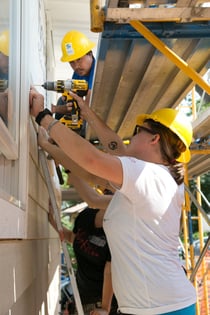 Over lunch Rainbow Build volunteers met with representatives from a variety of local LGBTQ advocacy programs, including Clare Housing, International Justice Program of the Advocates for Human Rights, Greater Twin Cities United Way, Minnesota Aids Project and Spirit of the Lake United Church.
Discussions ranged from the difficulty of balancing HIV/AIDs medical costs with mortgage/rent expenses to lack of affordable, safe senior housing for LGBTQ persons, whom often have less family resources to draw upon. Gale described the speakers as "perfect and very powerful… volunteers both days expressed to me how interesting and thought-provoking [they found] the topics the speakers covered."
Keep an eye out for information on Twin Cities Habitat for Humanity's next Rainbow Build!