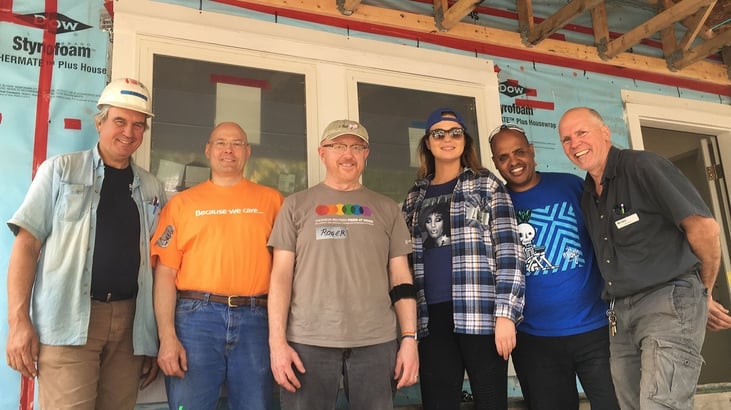 Last week and this week, more than 60 volunteers are participating in the 4th annual Rainbow Build, which aims to raise awareness for issues involving affordable housing in the LGBTQ community. It's an opportunity for LGBTQ volunteers and allies to spend a day building with us and learning about the unique housing challenges that impact this community.
Anne Elliott-Thul, Twin Cities Habitat's Manager of Volunteer and Constituent Programs, helped start this special build week which grows each year. On the significance of Rainbow Build, Anne says, "Access to safe, decent, and affordable housing is necessary for all families. Many obstacles faced by LGBTQ people can limit that accessibility. Rainbow Build has given Habitat volunteers and staff a deeper understanding of these obstacles, what other organizations are doing to face them, and how we can be a part of the solution."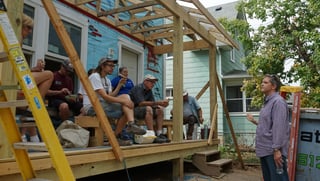 One exciting aspect of Rainbow Build is the lunchtime conversation. Each day during the two build weeks, there is a featured speaker from an organization that works with the LGBTQ community. This year, volunteers heard speakers from: Avenues for Homeless Youth, Out and Sober, MN Aids Project, and OutFront Minnesota. Speakers described their organizations' work to decrease barriers and increase equity for the LGBTQ community.
In Minnesota, we're one of only 20 states (and Washington, DC) to prohibit housing discrimination based on sexual orientation and gender identity (source: Human Rights Campaign). Two additional states prohibit housing discrimination based on sexual orientation, but not gender identity. But having these laws in place doesn't mean discrimination doesn't occur.
The Urban Institute recently published a report on a study which tested housing discrimination against same-sex couples and transgender individuals. The study focused on the Dallas–Fort Worth, Los Angeles, and Washington, DC, metro areas. California and DC both have housing anti-discrimination laws in place, but Texas does not.
The results from the study are pretty bleak, especially for trans people and gay men. The study found that housing providers told gay men and trans individuals about fewer available rentals than cisgender and straight testers. It also showed that gay men were quoted higher rent costs. Lesbians and straight women were given about the same number of appointments and other differences were not statistically significant.
Twin Cities Habitat's Rainbow Build helps shine light on some of these housing challenges for the queer community, while LGBTQ volunteers and allies support our mission to make affordable housing for all people a matter of conscience. Thanks to the volunteers who spent the day on a Habitat construction site and to speakers who shared their organizations' work!