Beyond all else, our highest priority is the health and safety of our entire Twin Cities Habitat community — staff, clients, volunteers, supporters, and all our neighbors across Minnesota. Since Monday, March 30, Twin Cities Habitat is operating virtually until further notice. Our office staff will work remotely to virtually support clients' financial wellness and homebuying journeys, and to engage Habitat's community of supporters to create, preserve, and promote affordable homeownership in the Twin Cities. You can see the most up-to-date and complete information on Habitat's COVID-19 web page.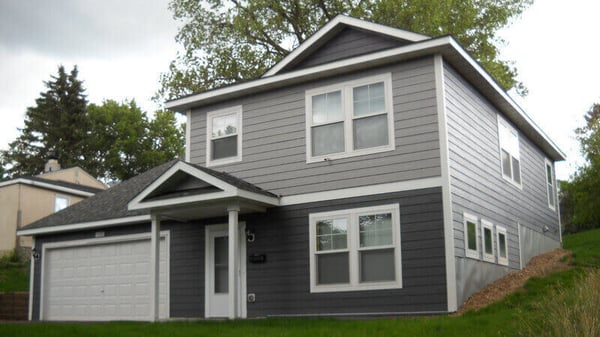 As the health and financial impacts of COVID-19 continue to upend normal life, many Minnesota families have had trouble making their recent rent or mortgage payments.
In response to this problem, Governor Tim Walz issued Executive Order 20-14 on March 24, preventing evictions and lease terminations during the current peacetime emergency.
The federal Coronavirus Aid, Relief, and Economic Security (CARES) Act, passed March 27, also requires all federally-backed mortgage servicers to offer temporary relief to those impacted by the Coronavirus.
With these measures in place, it's important to learn the facts before taking action. Here's what you should know:
What renters should know
Rent is still due
The Governor's executive order 20-14 has suspended evictions and lease terminations during the declared peacetime state of emergency. This means your landlord can't end your lease or file an eviction case against you right now. However, there is nothing in the order that suspends rent payments.
If you can't make rent, talk to your landlord right away
If you can't pay your full rent during this time, let your landlord know as soon as possible. Make sure to provide them with any documentation that shows how you've been impacted by COVID-19. For example, an email or letter that indicates you lost your job, or that your hours were reduced due to the Coronavirus. Here's a letter template for you to use, put together by lawyers at HOME Line, a Minnesota tenant advocacy organization.
If you need more time before you can make payments, you can ask your landlord for a grace period to have your late fees waived. You could also request a payment plan.
Above all, be honest with your landlord about your current situation and document your conversations with them.
Your utility bills are still due
Some utility providers like Xcel Energy and CenterPoint Energy are waiving late fees and stopping service disconnections for those who are experiencing hardship due to COVID-19. However, you are still expected to pay utility bills.
Contact your utility provider to see if they are offering any relief options during this time.
There are other relief programs available for renters
If you need help paying for rent, food, or childcare, you may be able to apply for emergency assistance through your county. Reach out to your Human Service Agency to get started.
If you are a resident of Minneapolis or St. Paul, both cities have created emergency housing assistance funds. Find out about Minneapolis' emergency rental assistance here, and St. Paul's Bridge Fund (which also covers mortgage assistance) here.
What homeowners should know
You are still expected to make your mortgage payments
All mortgage loans owned by federally-backed servicers will offer temporary relief to those who are unable to make their mortgage payments due to COVID-19. Most consumer-facing financial institutions are also offering relief to those affected by the Coronavirus. However, mortgage payments have not been suspended.
If you can't make your mortgage payments, reach out to your lender as soon as possible
In order to take advantage of any relief provisions, you must first reach out to your lender and discuss your situation. Missing a mortgage payment will not automatically enroll you in any relief programs.
Contact your lender to learn more and see what may work best for you.
Forbearance is not forgiveness
If you have a federally backed mortgage, you may be eligible to receive forbearance – a temporary postponement of mortgage payments.
Under a forbearance agreement, you can pause payments entirely or make reduced payments on your mortgage. Nevertheless, you are still required to eventually pay your loan in full.
Check your original closing documents or your most recent mortgage statement to learn if you have a federally-backed mortgage servicer. You can also look it up on the Mortgage Electronic Registration Systems website.
If you use a relief program, get your agreement in writing
When requesting forbearance or another mortgage relief option, ask your servicer to provide written documentation of your agreement so the terms are clear and documented.
After securing an agreement with your servicer, make sure to also discuss repayment options. Negotiate for the repayment options that would work best for you.
What Habitat homeowners should know
Habitat is here to support you. If you are experiencing a financial hardship due to COVID-19 and have concerns about paying your mortgage with Twin Cities Habitat for Humanity or TCHFH Lending, Inc., please contact us. Find information on the Habitat Homeowner webpage.
What everyone should know
Beware of Coronavirus scams
Unfortunately, scammers are taking advantage of the uncertainty and anxiety surrounding the Coronavirus. Take the following precautions to protect yourself from scams:
Ignore texts, emails, or calls about checks from the government
Don't respond to any offers for vaccinations and home test kits
Hang up on robocalls and watch for emails claiming to be from the Centers for Disease Control (CDC) or World Health Organization (WHO)
Check out this resource from the Federal Trade Commission's website for more information about the most common COVID-19 scams.
You may receive a Coronavirus Stimulus Check
Read our blog with details about the $1,200 stimulus check which may arrive in your bank account this week.
More Resources for Renters and Homeowners