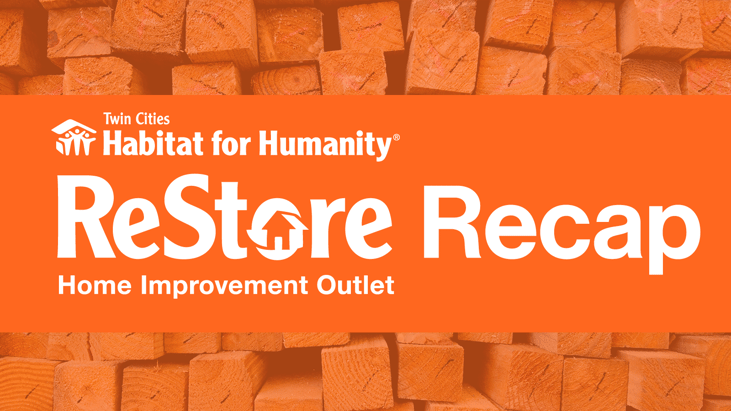 Here are some highlights we recently shared that can help jump-start your next home improvement project while supporting our community.

Students build work acumen at Twin Cities Habitat

Michael is a senior at Cristo Rey Jesuit High School in Minneapolis. The school is unique because every student has a part-time job in the real world in addition to their classes. Michael works at Twin Cities Habitat's ReStore one day a week.
Students' jobs help cover part of their tuition, plus they learn valuable life skills and get a sense for what they might like to study in college. Michael plans on going to college—but not yet. First, he's joining the Marines. Michael has had family members in the military. He is exercising to get ready for basic training and preparing for the entrance testing. Eventually, Michael plans to take accounting courses in college. But first he wants to take care of his family.
DIY with ReStore: Reusing Old Wood Pallets [VIDEO]
Repurposing and reusing items either found in your home or at stores is a fun way to spend an autumn day being crafty with your family.
Jan Hagerman, with Twin Cities Habitat's ReStore, has some creative project ideas using wood pallets.
"We've all driven around and seen piles of pallets in industrial areas or retail places," she says. "We hate to see those wasted, and here at ReStore, we don't waste them."
Kitchen Remodel 101: Save Big with Used Kitchen Cabinets
Remodeling your home can be a fun way to customize your space, but it can also be expensive. As DIY television shows and networks increase in popularity, so does thrifting, reusing and repurposing. Try a unique approach to your next home project by purchasing gently-used instead of new materials to lower the cost, especially in your kitchen. Used kitchen cabinets can make your next kitchen remodel substantially more affordable.
Not sure what to look for? These four tips can help you find the right used cabinets and make them your own.
Simple, Quick & Affordable Halloween DIY Projects
One of my favorite things to do during the holiday season is to drive around local neighborhoods and drool over all the creative and fun exterior decor that people put on display in their yards. This year, I wanted to try and step up my game in holiday decorations, without spending too much money. Thus began my search for cheap Halloween DIY decor ideas, and down the Google and Pinterest rabbit hole I went...
The first project I came across is one I actually have been wanting to do for YEARS and I'm finally putting mine together this season!
DIY with ReStore: You Won't Believe What We Used to Make This Fire Pit [VIDEO]
Fall is in the air, and if there's one thing we love about the changing seasons here in Minnesota, it's spending time outdoors in the crisp autumn air — like cozying up next to a backyard bonfire.
In this video, Jan Hagerman with Twin Cities Habitat's ReStore demonstrates how to create your own fire pit using recycled materials that you probably wouldn't have guessed.
ReStore Receives Recognition from Minnesota Retailers Association
Retailers from around the state of Minnesota gathered to recognize the 2017 Minnesota's Retail Champions during the Retail Rally at the Opus College of Business at the University of St. Thomas. The Twin Cities Habitat for Humanity ReStore team was honored to be among the nominees attending the award ceremony.