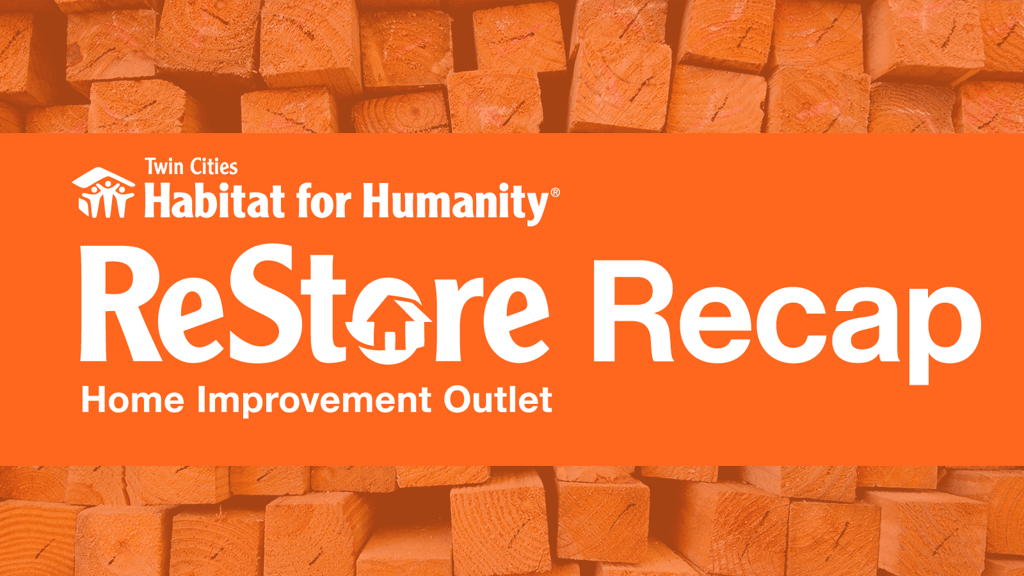 Here are some highlights we recently shared that can help jump-start your next home improvement project while supporting our community.
What is the Impact of Your Donation to ReStore?
When cleaning out your home, you're bound to come across something you either no longer want or no longer need. Some items you can't get rid of fast enough; others can be difficult to part with. Donating your once beloved items to be reused and cherished by someone else can be very rewarding. Imagine that drawer of unused, mismatched knobs and handles of yours accentuating one-of-a-kind kitchen cabinets or bedroom furniture in someone else's home. Perhaps that dresser you've held onto for years will get refinished for a nursery or bedroom. The possibilities are endless.
Habitat for Humanity Opens Community-Funded ReStore in the Twin Cities
It has been a little over a year since the opening of our ReStore in Minneapolis, and we continue to be in awe of the welcome and support we have received from the local community. The opening of the store itself was a community-funded endeavor, and was recently featured in a national ReStore newsletter.
DIY with ReStore: Fun Holiday Decorations [VIDEO]
From holiday music to twinkling lights, 'tis the season to make your spirits' bright!
Even if you have a stockpile of holiday decorations from years past, it's always fun to deck the halls with something new. But why buy more, when you can make your own decor? Holiday crafts are a great activity for the family as you get together around the holidays.
DIY with ReStore: Easy-to-Make Cubbies [VIDEO]
If you've got a dorm room, kids room, or maybe a studio that could use some extra storage, cubbies might be just the solution you're looking for.
In this video, our own Jan Hagerman with Twin Cities Habitat for Humanity ReStore shares just how easy it is to make them yourself.
ReStore For the Holidays
With the season's festivities quickly approaching, we wanted to make sure to share our holiday hours with our donors, shoppers, and volunteers! These special hours are meant to accommodate scheduled organization celebrations, as well as provide staff time to spend with their families this season.
Meet Mark: Minneapolis ReStore Sales Associate
Mark Lampman has had a handful of careers over the years, but a series of interesting events led him straight to the Twin Cities Habitat for Humanity ReStore in Minneapolis as a Sales Associate.
9 Tips to Consider When Shopping for Used Furniture
Whether you're looking to save money or just enjoy a good shopping adventure, buying used furniture is a great way to do both these things and keep good, reusable items out of landfills. Some used furniture needs a little makeover, other items have years-worth of life left in them, and a few (although rare) still have original tags.
The key to shopping for used furniture is making sure you really are getting a bargain, and adding in how much you think it will cost to refurbish the piece, if it needs it. Let these nine tips guide you as you shop for used furniture:
A Holiday Boutique Generating Warmth
When a Twin Cities Firefighter approached the ReStore with an opportunity to decorate a holiday tree to benefit Operation Warm, they jumped at the idea. Not only did ReStore volunteers decorate a tree for a silent auction, but they decorated several doors that displayed wreaths for sale during the Minneapolis Holiday Boutique (November 10-12, 2017 at US Bank Stadium).
Tips & Tricks When Buying New or Used Kitchen Cabinets [VIDEO]
Are you looking to remodel your home kitchen, a rental property, or lake home? Or maybe you want to install cabinets in your garage as a place to organize tools and seasonal decorations?
Whether you're buying new or used cabinets Jan Hagerman of Twin Cities Habitat for Humanity ReStore has some tips and tricks for finding the perfect fit.
Refresh Your Walls with Amazon Paint — Now Available at the ReStore
Paint is probably the easiest way to make a big transformation in any room, exterior, or DIY project. You can now easily make that transformation using Amazon Paint, which is now available at the ReStore. Amazon Paint is recycled from left over water-based paint in an effort to keep discarded paint out of landfills and incinerators.