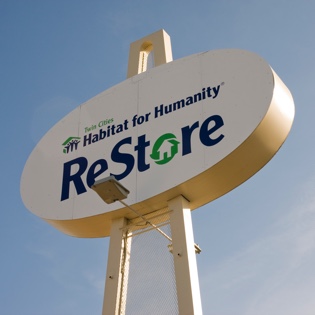 Part of my job as a Communications Specialist for Twin Cities Habitat for Humanity is to share news and personal stories about the ReStore and to produce the bi-weekly Hot Deals newsletter. A few weeks ago, when I went to the store to take photos for the Hot Deals, I discovered a man in the store shooting video. Surprised, I wondered who he was and what he was doing.
He introduced himself as Tyler Dressel, a student at North Central University, a Christian college in Minneapolis. He explained that the video was a nonprofit service learning project. The goal, he said, was to produce a video about a nonprofit that could help the nonprofit further its mission. He said he chose the ReStore because he liked Habitat for Humanity, but thought the ReStore might offer a more unique story.
The video below is what Tyler produced. I think it does a good job of telling the story of the ReStore. I also think the customers he interviewed for the piece add some insights as to why people shop at the ReStore. With any luck, it'll inspire some ideas to bring you back to the story. Hopefully, it'll also motivate you to share it with anyone you know who might enjoy or benefit from shopping at the store, or who might have something to donate to the store.
If you're moved to share the story, just tell the people you forward it to that the ReStore is a Home Improvement Outlet open to everybody, and that all the money it makes goes to build more homes with Habitat.
The next time you're in the store, let us know that you shared this story!
Thanks.