Guest Blog by Jackie Peak,
Twin Cities Habitat Staff Member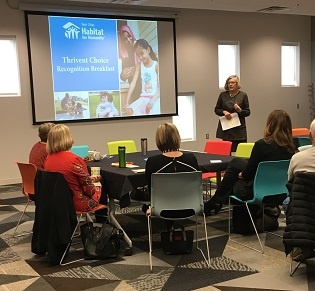 Thrivent Financial has been a long-standing partner of not only Twin Cities Habitat for Humanity (TCHFH), but also Habitat for Humanity International. Since 2006, Thrivent has sponsors over 80 homes and more than 125 critical home repairs in the Twin Cities alone.
The sponsorship would not be possible without Thrivent members, who not only volunteer on site and lead Action Teams, but they direct their Thrivent Choice dollars to TCHFH. Through Thrivent Choice®, members are empowered to recommend where some of Thrivent Financial's charitable outreach funds go. Since Twin Cities Habitat started receiving Thrivent Choice dollars in 2013, over 200 Thrivent members have targeted their dollars towards building more affordable housing in the Twin Cities Metro area, donating more than $50,000!
On February 22, we hosted a breakfast to recognize those who have target their Thrivent Choice Dollars to Twin Cities Habitat. Sue Haigh, president and CEO of TCHFH, spoke of the huge impact Thrivent has had on our community through the Thrivent Builds program, before introducing Nyakade, a Twin Cities Habitat homeowner who purchased a home sponsored by Thrivent Financial in 2014.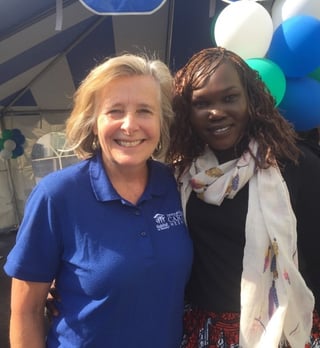 "I am a homeowner, and I have a dream job, the American Dream," Nyakade said, while sharing the impact Habitat homeownership has had for her family. You can read Nyakade's full story in this blog post.
Now that Nyakade has a home of her own, she makes a point to encourage other young women like herself to become homeowners. Nyakade's story is just one example of the families impacted by the partnership with Thrivent Financial. We are immensely thankful for the partnership with not only Thrivent Builds and Thrivent Financial, but also the Thrivent members.
Already a Thrivent member? Remember the deadline to designated for 2016 dollars is March 31, 2017. Learn how you can target your Thrivent Choice dollars or lead an Action Team here!