On Thursday, March 10, we put out a call out to support Habitat's emergency Ukraine response. In less than five days, donors rallied together to raise over $110,000—more than quadrupling our initial goal of $25,000. The generosity of Twin Cities Habitat for Humanity supporters is nothing short of extraordinary. Thank you!
How did we get here? Let's take a look.
The Call Goes Out
"The images of death and destruction out of Ukraine are gut-wrenching, and we're facing a humanitarian crisis of epic proportions," said Chris Coleman, President & CEO of Twin Cities Habitat for Humanity. "As the Habitat for Humanity family, we knew we needed to step up and activate our Twin Cities supporters to provide assistance to Habitat for Humanity International's efforts on the ground. Our donors gave generously and expressed gratitude that a trusted organization like Habitat was taking action to support Ukrainian refugees."
Our initial goal of $25,000 was exceeded in just 18 hours, a testament to supporters' urgent desire to assist the people of Ukraine. The goal was raised to $35,000, then $45,000, and finally we decided to raise as much as possible for this effort.
An initial check of $110,000 is being sent to Habitat for Humanity International, which includes $85,000 from the fundraiser and $25,000 from Twin Cities Habitat's Global Impact Fund.
All gifts raised will support Habitat for Humanity affiliates and partner organizations in Poland, Romania, Hungary, and Slovakia. Funds will be used where they're needed most, including:
Hotel vouchers for Ukrainian refugees
Emergency travel kits for refugees that include power banks, sim cards, masks, transportation vouchers, and more
Space heaters at transition centers near the Ukrainian border
Partnering with host countries to create more affordable rental housing and permanent housing solutions for refugees
Our local fundraiser has now concluded.
Note: the thermometer includes $25,000 from Twin Cities Habitat's Global Impact Fund.
An Outpouring of Support
The Emergency Ukraine Response fundraiser quickly became one of our most successful fundraisers ever as gifts came flooding in. 260 people have donated, and about 90% of them opted to cover the transaction costs so 100% of their gift would go to supporting Ukrainian refugees.
Our Habitat partners in Eastern Europe have noticed, too. This is what Rick Hathaway, Habitat for Humanity International Area Vice President for Europe and the Middle East, had to say in response to our efforts:
"It is encouraging to see that [Ukrainian refugees'] long and painful road to the border is met with compassion and kindness from Habitat for Humanity colleagues and so many others. We are very grateful for the support from Twin Cities Habitat for Humanity. Your support will further the work of Habitat organizations in Romania, Poland and Hungary around decent and dignified shelter options for Ukrainian families."
The generosity of this Twin Cities Habitat community is simply inspiring. In the wake of COVID-19, Twin Cities supporters quickly responded to our At Home Fund to protect homeowners and expand homeownership in the midst of the pandemic—leading to our top fundraising years on record. Now the Habitat community is showing up again for Ukrainian refugees. And we'll continue to create, preserve, and promote affordable homeownership right here in the Twin Cities.
Many donors left comments with their donations to Habitat's Emergency Ukraine Response. Here are a few of them: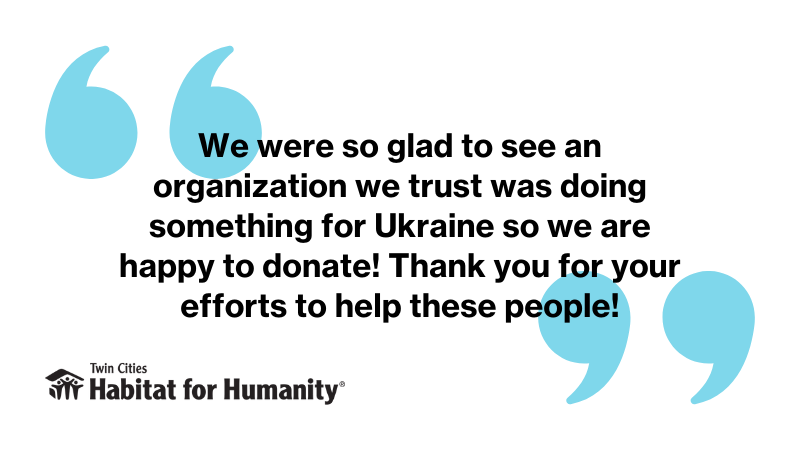 ---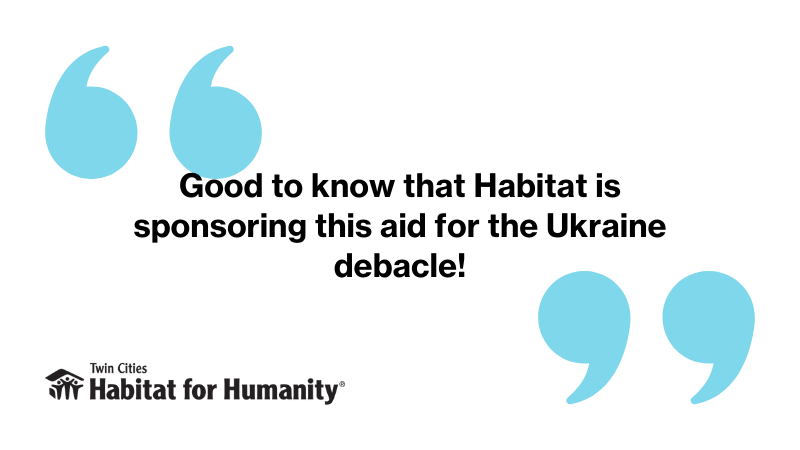 ---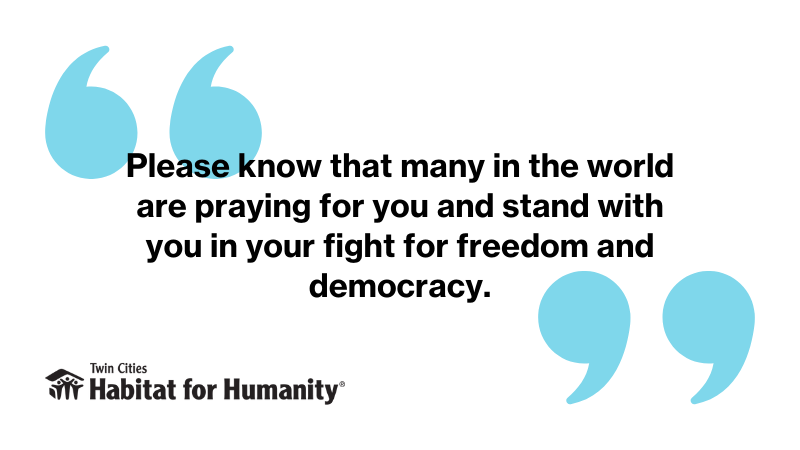 ---
Our local fundraising efforts for Ukraine have concluded. But if you're still looking for a way to support, you can give directly to Habitat for Humanity International's Disaster Response Fund. If you would like to support local families through Twin Cities Habitat, you can check out all the ways you can give.