With the 2022 Legislative Session halfway over, Twin Cities Habitat for Humanity is gearing up for its 3rd Annual Virtual Hill Day! With so much to be done, we're excited for our Housing Heroes from across the state to come together to ask our legislators to prioritize affordable homeownership. Virtual Hill Day will take place on Friday, April 29, and everyone's invited to this free event! Don't miss out—click here to register now and join us!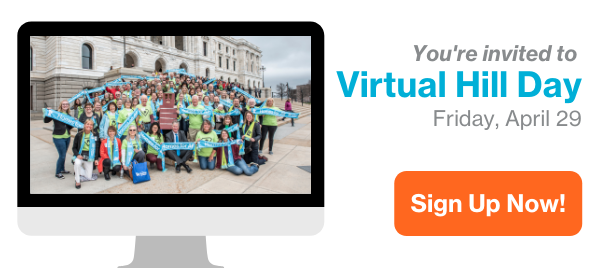 Habitat's Legislative Priorities
Twin Cities Habitat for Humanity has had a long history of working to address affordable homeownership needs throughout the seven-county metro area. More than 1,500 local families have partnered with us to become successful homeowners. But to be able to provide these opportunities we need vital investments from our partners in government.
Currently, the State of Minnesota designates less than 2% of its state budget toward housing, which has been woefully insufficient to keep up with the housing need. Homeownership is transformational for families - creating a stable foundation where families build generational wealth for a lifetime. By increasing state housing funding, Minnesota can begin to address the state's affordable homeownership needs.
For the 2022 Legislative Session, Twin Cities Habitat for Humanity has worked hard to move forward its legislative priorities to advance affordable homeownership throughout the state. These priorities include:
These bills would provide much-needed assistance in preparing homebuyers for successful homeownership. Currently, both programs are included in the House Housing Finance & Policy Omnibus bill, putting us in a strong position going into negotiations.
Learn more about Twin Cities Habitat's work during this legislative session here!
Virtual Hill Day
Habitat supporters care deeply about the mission, and advocating for Habitat's legislative priorities is a critically important way you can contribute! Our staff works hard to advocate for affordable homeownership, but they can't do it alone. Our lawmakers rely on their constituents to support their decision-making and to work towards solutions that matter within the community they represent. This is why Virtual Hill Day is such an important opportunity to demonstrate the support across the state for affordable homeownership.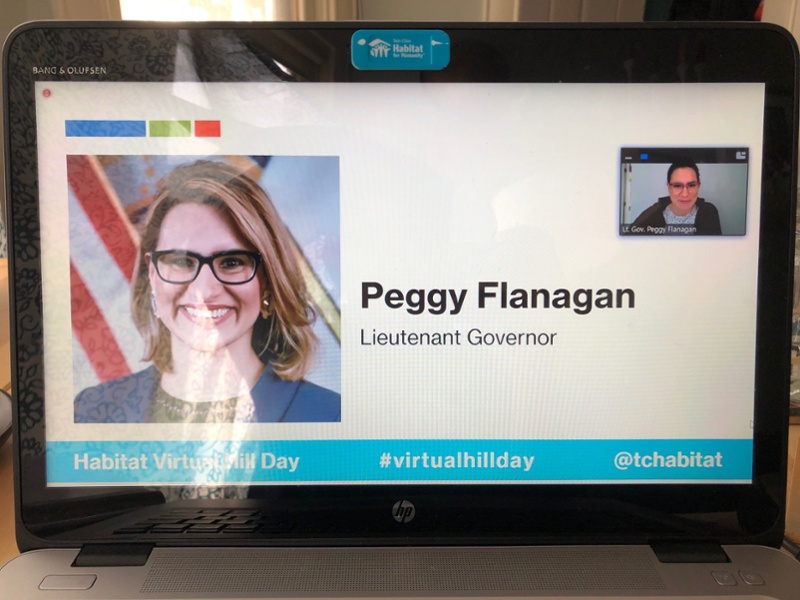 Housing Heroes hear from Lieutenant Governor Peggy Flanagan at Virtual Hill Day in 2020.
Twin Cities Habitat for Humanity needs your support this Virtual Hill Day and we hope you can join us. Click here to register, no experience is needed!
Here's a little bit about what you can expect at Virtual Hill Day:
Hear from mayors from across the state about the work being done within local communities
Learn more about Habitat's legislative priorities
Find out how you can use your voice for these priorities
Meet with your legislators and fellow constituents (registration for legislator meetings ends April 15)
Nervous about participating in legislator meetings? No worries! Get the training you need at Virtual Hill Day to meet with lawmakers and fellow Habitat supporters in your district
Join the network of housing advocates who diligently support affordable homeownership just like you!
After you register, our staff will reach out to you two weeks before the event with additional resources and a link to join.
What are you waiting for? Raise your voice for affordable housing and sign up for Virtual Hill Day today!