When you spend the last two-thirds of your professional life working in construction, you might think you'd naturally fall into a homebuilding or home repair role at Twin Cities Habitat for Humanity. That wasn't this case for ReStore regular, Bill Mantis.
As a Twin Cities native, Bill was first introduced to Twin Cities Habitat by a couple who were friends of his that had moved to Denver and started to volunteer at their local Habitat for Humanity affiliate. They encouraged Bill to look into the variety of volunteer opportunities available at Habitat. His curiosity was peaked, and he logged onto the Twin Cities Habitat website to browse through the volunteer roles.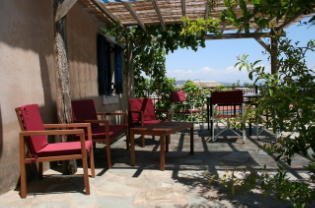 Although Bill has an extensive background in construction, having built numerous homes on his own, including a home in Puerto Rico and restoring his mother's house in Greece (photographed left; you can read more about the renovation and see photos here), Bill realized the eight-hour days and labor involved would not be feasible with his schedule and occasional arthritis pain. He read about the roles available at the ReStore, and decided from that day forward to dedicate his Mondays to volunteering at the store. That was 1.5 years ago, and since then, he has become a beloved member of the regular Monday ReStore crew.
"Our ReStore regular volunteers are the best!" said Jill Carmody, ReStore Manager. "Each volunteer comes to us with a different set of skills to share. I love getting to know their story and providing a way that they can continue to give back to their communities. The store continues to be successful because of the dedication of our volunteers. They provide the store with quality customer service on the sales floor, a vision of how we can continue to improve and daily motivation to achieve our goals. We would not be where we are today without them."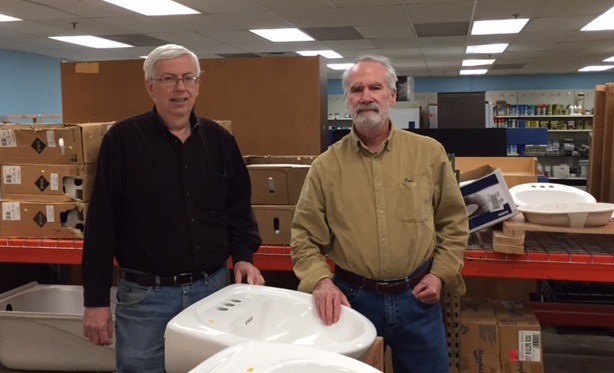 Every Monday, you'll find Bill and fellow volunteer Paul Escen (pictured above, Paul left; Bill right) working in the plumbing department at the ReStore. As self-proclaimed "Plumbing Department Specialists", Bill and Paul are responsible for cleaning up the fixtures, sorting through the new inventory and placing it out on the floor, rearranging the department, making sure that old/unsellable is properly recycled or disposed of, and occasionally pricing inventory before it hits the sales floor.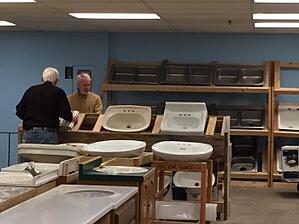 "I really enjoy working here. The collegiality among the staff and volunteers is wonderful. And over lunch, we solve the world's problems," Bill smiled.
When he's not at the store, Bill spends his time enjoying his retirement with his wife in their condo in Lowertown. He also volunteers as a reading tutor at the Higher Ground Academy in St. Paul.
"Bill has a fantastic passion for improving our processes," Jill said. "He provides great ideas and insights for the store to be successful."