Please act now by emailing your legislators and calling Governor Mark Dayton to make sure housing is a priority in the bonding bill (script below, it's easy!)
In response to the Minnesota House bonding bill, which included no funding for housing, about 100 community members showed up at the Capitol yesterday, to talk specifically about what home means to them. Without funding for housing included, those that drafted the bill in the House are telling Minnesotans that we need to wait. But we cannot wait!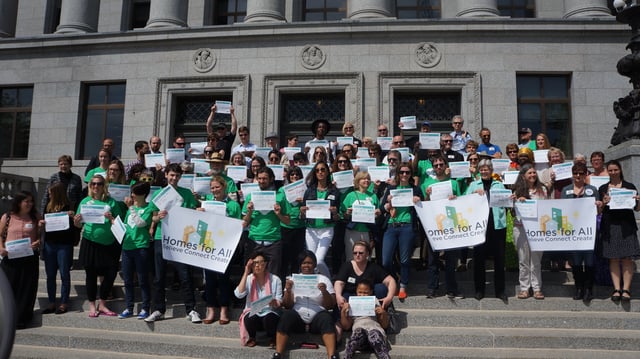 Homes for All has spent months working hard generating bipartisan support for $130m bonding bill for housing in both the House and the Senate. We are grateful that both Governor Dayton and the Senate include $90 million in bonds for housing in their bills. And yet, what the House put forth included no funding for housing.
Earlier this week, Representative Hausman, a tireless advocate and housing champion, asked why there was no money in the bonding bill for housing. She was told "we had to prioritize and that's what in the bill."
I know and you know that that was a mistake—our families, our communities, are a priority.
And, we cannot wait.
There are 600,000 people across Minnesota paying more than they can afford for housing, so we cannot wait.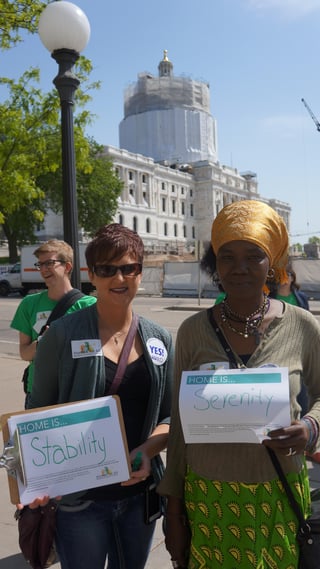 Half of the people who are experiencing homelessness are children and youth, so we cannot wait.
The five fastest growing jobs across Minnesota pay $18k to $23k per year, but no counties anywhere in Minnesota provide sufficient affordable housing options to these workers, so we cannot wait.
We have seniors, our elders, in our communities, turned away from shelters because of lack of space, so we cannot wait.
What's more, we absolutely have the resources to prioritize our communities, now.
Minnesota Housing Finance Agency Commissioner Mary Tingerthal reminded us that investments in housing have a great return: if these funding dollars aren't available, an estimated $125 million in private and federal investments would be left on the table.
So there is no reason to wait: Our state is not in deficit. We are a priority. And we cannot wait.
We are spending these last remaining hours at the Capitol reminding legislators what is behind the discussion around money, that this isn't just a conversation about numbers, this is about real people, about each and every one of us, about our communities.
This is about what 'Home Is' to each of us.
Over 500 emails have been sent to legislators from Habitat Housing Heroes this week. An additional 100 'Home Is' signs were hand delivered to Speaker Kurt Daudt, too. We'll be there all weekend alongside your legislators because we know that we cannot wait.
Please join with us now and act today!
Please also consider calling Governor Dayton at 651-201-3400 or 800-657-3717. Here is the script:
Governor Dayton,
My name is ________, and I live at _______________.
As the session comes to a close, please ensure that your support of housing as part of the bonding bill remains a priority.
Affordable housing is the foundation for education, health, equity, and economic vitality. Safe and stable housing is the foundation for thriving communities. We are grateful that both you and the Senate include $90 million in bonds for housing in your bills and appreciate your continued support!
Thank you for being a Housing Hero!