Landscaping with Twin Cities Habitat
Guest Blog by Val McGruder
Twin Cities Habitat for Humanity Volunteer
A definition of the word is simple:
"the natural home or environment of an animal, plant, or other organism"
"a person's usual or preferred surroundings."
While I knew that Habitat for Humanity built and sold homes to families in need of decent, affordable housing, I did not know much more about the process. The four walls provide shelter from the elements, and a safe refuge.
But this is where "Habitat" goes beyond the basics. To enhance the house, each family is able to choose lovely flowers and plants to complement the yard and beautify their surroundings.
This is truly what makes each house a home.
Examples of Twin Cities Habitat Landscaping
As a Hennepin County master gardener, I have been fortunate to be a part of this process.
Each home is assigned a team of master gardeners.
This team meets with the family to present choices and talk about the kinds of plants they might like and their visions for their yards.
A plan is made and approved
On the morning of planting, I was filled with excitement as our team assembled and began to organize tasks for the day. The homeowner and two of her children arrived and were eager to join the team. We were also fortunate to have a group of volunteers from the University of Minnesota. Each of the young women and men were enthusiastic and ready to help. After some brief instructions, we began our work in earnest.
We cut sod, broke up clay, added compost and prepared the gardens. Each plant was removed from their pot and placed in the garden. I mentored a group of four volunteers, answering questions and demonstrating proper planting techniques. I enjoyed working alongside them and I could see the concentration in each of their faces as the gardens took shape. When all the plants had found their spots, mulch was spread to minimize weeds and complete the gardens. The homeowners' children took turns watering the new plants and final instructions were given regarding plant care.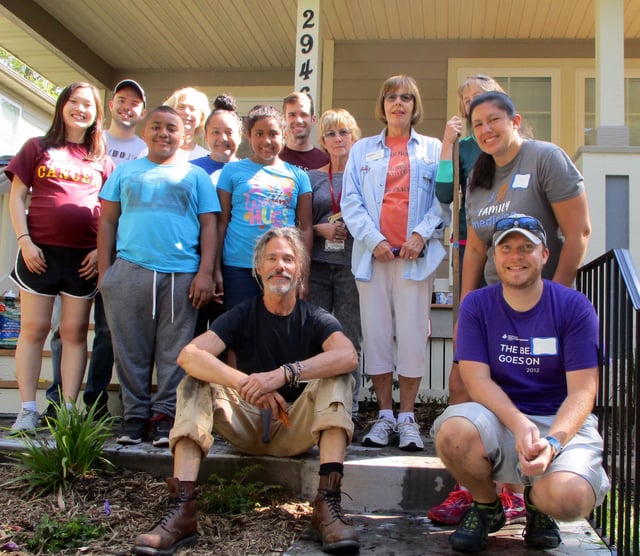 Volunteer group helping with Habitat landscape
In a matter of a few hours, the yard was transformed with two beautiful flower beds and a raised garden for vegetables. A young crab apple tree was also planted, promising future shade and delicious fruit.
At the end of the day, I felt a deep sense of accomplishment and pride in being a part of this group."Thank yous" were exchanged and everyone shared good wishes for the homeowner and her family. We all gathered together on the front porch and took a group photo. I know this photo will be a reminder of a wonderful day full of teamwork. It will also make me smile as I think about the bright future of this family in their beautiful new "Habitat."