Guest blog by CJ Fitzsimons
Women Build Steering Committee Member and Crew Leader

We did it! Here are some "before and after" photos of the house so many volunteers contributed in building.
Last week, the family moving into our recently completed Women Build home shared their heartfelt appreciatio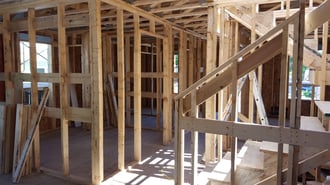 n and thanks, alongside volunteers and Habitat staff that shared personal build stories from their time helping to make this home a reality.
This home was unique, as we started our volunteer work a bit later in the build phase. I was thrilled to have heard so many positive comments from volunteers about the different format. Here are just a few:
"So excited to see the joy on their faces as they get to try something new" - Team Leader talking about her team installing flooring.
"I'm so grateful I'm doing something less strenuous so I'm able to volunteer" - Individual day volunteer as she was installing trim.
"It's rewarding to get to show volunteers new tasks and see how excited they get when they've learned a new skill" - Crew Leader working with a group installing windows.
A big thanks to all of you who have contributed in supporting this excellent program and giving deserving families a better future!
I hope to see you out on site soon!
-CJ