Coupled with the excitement of volunteering for Twin Cities Habitat for Humanity is fear that I'll screw up. Which I do. Quite often. In any other job, I would have been "let go" long ago. But my supervisor Dave Madzo grins and bears my presence every Wednesday and I am, by fits and starts, learning valuable skills.
Each volunteer session is a new experience and I have, over my nearly two years of volunteering worked on every aspect of a new home build outside and in. I like the variety and the challenge but, like everyone, I always hope for an assignment that I'm comfortable doing, like framing — the macro side of the home-building operation. I've learned to set tresses, cut and install stairs and porches, and install siding, soffit and fascia. The more precise interior work continues to be a challenge for me.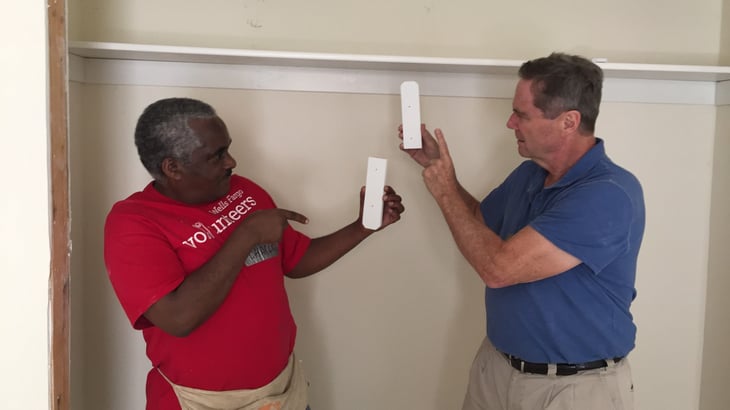 I spent a career in journalism, where it is essential to get what people are telling me right the first time because the second time usually involved an embarrassing correction. I prided myself on not only getting the story first but also right. Construction, however, is a different beast that lumbers rather than sprints. The language still is foreign to me and I find myself asking repetitive questions because my biggest fear is that Dave or his AmeriCorps volunteer Matt will have to stay late fixing something I got wrong earlier in the day.
Today it's coping baseboard and cutting and installing closet shelving at a Habitat site along Jessamine Avenue in Saint Paul. After cutting the top shelves of the upstairs bedrooms, I asked Dave what was next. As always, he was patient with me, explaining that he needed the freshly painted six-inch strips of wood, narrowed on one end, distributed in each of the closets. As usual, I got ahead of myself and started to walk away before he was finished speaking. And, in my haste, I thought he asked me to distribute them on top of the closet shelving, which when you think for a second would make absolutely no sense. But I didn't think. As I was nailing the last one in a first-floor closet, Dave tapped me on the shoulder and asked me what I was doing. That's when the nausea attacked.
"Not right?" I asked. "No," he replied with a broad grin. "They go below the shelving. And you'll have to fill all 24 nail holes you made."
Which I did, thinking that I had just added to Dave's voluminous volunteer lore, under the heading, "You can't write this stuff."