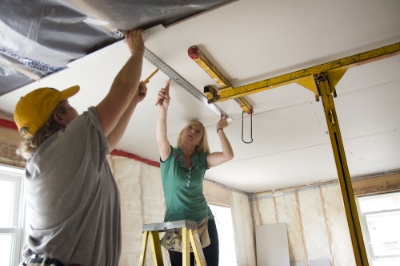 Written by Julia Brauchle and Becky Engen
Each year, Twin Cities Habitat for Humanity works with tens of thousands of volunteers to help build brighter futures for local families. Every volunteer brings a different skillset and knowledge level, but each of them comes with a readiness to serve. Our staff works with volunteers ranging from youth to retirees, and Habitat partners with both individuals and larger groups. Over the years, we've heard a variety of myths about becoming a Habitat volunteer, and we thought we'd shed some light on a few of the ones we hear the most often.
1. "Habitat only builds in the summer." - FALSE! Habitat needs volunteers to help build year-round. During the winter, most of our work involves interior projects, but it's always a good idea to dress in layers so that you can add or remove clothes depending on the temperature!
2. "You need to have construction experience to volunteer on site." FALSE! Habitat volunteer opportunities do NOT require any previous experience. Our knowledgeable staff will teach you everything you need to know. Just come excited and ready to learn!
3. "Volunteering with Habitat is a huge, long-term commitment." FALSE! You can choose to commit to volunteering as little as one full day onsite or three hours at the ReStore. We strive to provide opportunities in order to be flexible with volunteers' schedules.
4. "Habitat only has construction volunteer opportunities." Again, FALSE! We have volunteer opportunities that support our Family Services, ReStore, Events, and Office teams.
If you have questions about volunteering with Habitat, please feel free to reach out to Volunteer Coordinator at 612-305-7114 or volunteer@tchabitat.org.