Last week, more than 50 volunteers, sponsors, and staff gathered in St. Paul to celebrate Huda, Shamis and Aligele's new home.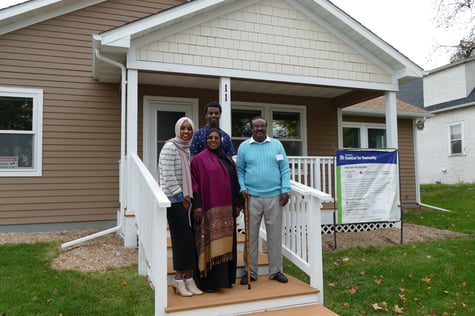 Huda, Shamis and Aligele, along with her brothers Abdulrakib, Abdulrhman and Ahmed, are excited about moving into their new home. After growing up in Somalia, and having to move frequently in Minnesota, they are looking forward to having a safe home to live in. Huda's brothers are most excited about having their own rooms and a quiet space for studying.
Huda shared her gratitude for everyone who helped to make his family's home a reality.
"Our futures have already changed educationally, financially, and morally. With a home of our own there will be no more moving from country to country or city to city. We will finally have a stable, constant home that will be ours forever."

Site Supervisor, Zack Zoul, thanked the volunteers who worked on the home, which included crews from sponsors Thrivent Financial and Holy Hammers. Zack also made special mention of his dynamic experience working with Huda.
"I've worked with a lot of homeow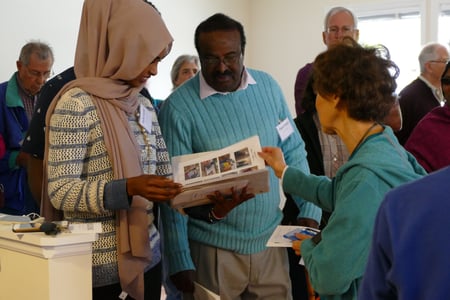 ners that have really won me over with their kindness and work ethic. After working with Huda, I feel extremely confident in her future as a homeowner."
Zack adds, "Huda is an ultra ambitious woman and she is so hard working. She finished her sweat equity hours before we even started on the house. It wasn't because she had to--as someone who takes care of herself and her family, that's just how she handles business."
Nikki Sorum, Twin Cities Habitat for Humanity Vice Board Chair and West Division Vice President of Thrivent Financial, spoke about the long partnership between Thrivent Financial and Twin Cities Habitat for Humanity. Nikki presented Huda, Shamis and Aligele with a framed Golden Rule and led the Dedication for the home. She echoed her gratitude for the Thrivent-Habitat relationship and led the room in the reading of the Dedication Litany.
As the Dedication Litany states: Our partnerships give us the resources and the strength to build homes and transform lives.
There were many sponsors and volunteers that made this home in St. Paul possible. We thank Thrivent Financial, Holy Hammers and our countless volunteers for all of their support and commitment that make building affordable housing possible for Twin Cities families!