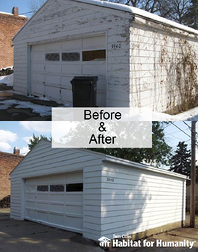 Twin Cities Habitat's A Brush with Kindness program is a home preservation service that offers painting, landscaping and minor repair services for homeowners in need. The goal is to help low-income homeowners impacted by age, disability and family circumstances, who struggle with day to day maintenance, reclaim their homes with pride and dignity. A Brush with Kindness serves as a companion to our core building services, enabling our organization to serve more families and increase opportunities for volunteers and sponsors.
Our projects rely heavily on volunteer labor and we are actively recruiting driven individuals to help out anywhere from one day to a couple times a month. Volunteers who sign up for opportunities with A Brush with Kindness will work with Habitat staff and the homeowner to make repairs. Past participants have enjoyed learning new skills, networking with others and the feeling you get from being part of a team.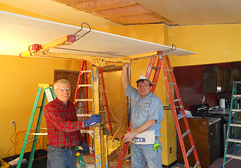 For longtime A Brush with Kindness volunteer Dave Devoy his years on site have truly been a labor of love. He leads a crew of four by helping out on all aspects of projects every Wednesday from 8:30 – 4pm. The rest of the crew consists of: Jerry Kuennen, a retired forensic engineer from the Electric Utility industry and detail-oriented volunteer; Phil Jablonecki, a retired electrician and all-around handyman; and Bill Skinner, an experienced Twin Cities Habitat for Humanity volunteer. The crew also gets support from other Habitat crews, like the Jewish Community Regular Crew, as well as single day volunteers.
"Working with A Brush with Kindness is especially rewarding due to the fact that the work is performed on owner-occupied houses. The results are often quite striking and the homeowners are invariably pleasant and appreciative. The families are often inspiring in their abilities to deal with the challenges of life," Dave shared.