Few legacies are more impactful than helping three families achieve their dream of homeownership.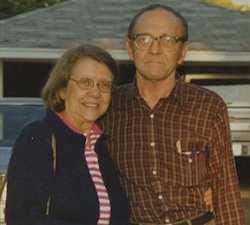 Don and Becky Johnson certainly felt that way. The couple's estate left a stunning donation – totaling $145,473.02 – as a planned gift to Twin Cities Habitat for Humanity. The couple's donation is being used to help fund three homes that will be built by volunteers from St. Andrew's Lutheran Church over a three-year span.
Last June, over 150 members of St. Andrew's Church helped to build the first of the three homes – a five-bedroom house on Thomas Ave in St. Paul. The church's involvement with Twin Cities Habitat began 23 years ago, and with each year the number of volunteers grows larger than the last. Several St. Andrew's volunteers also formed a regular "Tuesday Crew" that volunteer at different sites every week. Dave Engh is a longtime veteran of the crew, and Becky Johnson was his cousin.
"I had the privilege of being Becky's trustee, and had been helping Don and Becky outline their will when Don passed away suddenly. Becky and Don believed strongly in the efforts of Habitat for Humanity to create affordable housing, and asked me to make sure a donation was made to Twin Cities Habitat as part of their legacy" Dave said.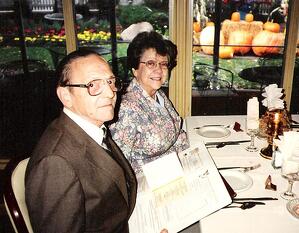 The motivation for their generosity is made clear when you consider Becky and Don's lifelong dedication to their community.
Becky, a Cottonwood, Minnesota native, studied music at St. Olaf College and later earned her M.A. at Northwestern. Becky touched many lives as a music teacher at St. Paul Public Schools and also as an actress, starring in local theater productions and even television commercials.
Donald Lee Johnson was a fixture in the community. Don was an electronics technician who owned a television repair business in Forest Lake, where he was known as "T.V. Don" by locals. He spent much of his career with the Ball Aerospace in St. Paul and was an avid pilot himself.
Even after giving so much to their communities throughout their lives, Don and Becky wanted to give back even more. They believed strongly in the efforts of Twin Cities Habitat for Humanity to create decent, affordable housing, which led them to decide that part of their legacy should be supporting that mission. The families that live in the three homes will feel that legacy most of all.
St. Andrew's next Habitat for Humanity project is a new home in White Bear Lake, which begins on June 2nd. Becky and Don would be proud to see that their contribution is doing so much good.
Thousands of families across Minnesota need quality, decent, affordable housing. Consider making a planned gift to Twin Cities Habitat for Humanity, and ensure that your legacy will help families achieve their dreams of homeownership.
For more information on leaving a legacy gift please contact Kate Loe at 612-305-7128 or kate.loe@tchabitat.org.