June 2nd marked the beginning of a new partnership between Bluestem Brands and Twin Cities Habitat.
Bluestem volunteers gathered in the Clover Field neighborhood in Chaska to begin a new project -- Bluestem's first-ever Habitat home. Over 750 Bluestem employees will provide more than 6,000 volunteer hours to the endeavor, which will become the 16th Twin Cities Habitat for Humanity home built in Chaska.

Bluestem Brands is headquartered in Eden Prairie, Minnesota. Bluestem's brands include Fingerhut, Gettington.com, and PayCheck Direct.
"We're excited to have this opportunity to give something back to the community — and to have a little fun while doing it."," said Steve Nave, CEO of Bluestem Brands.
Bluestem's dedication to that mission is evidenced by their recent pledge of $120,000 and a massive volunteer effort to Twin Cities Habitat.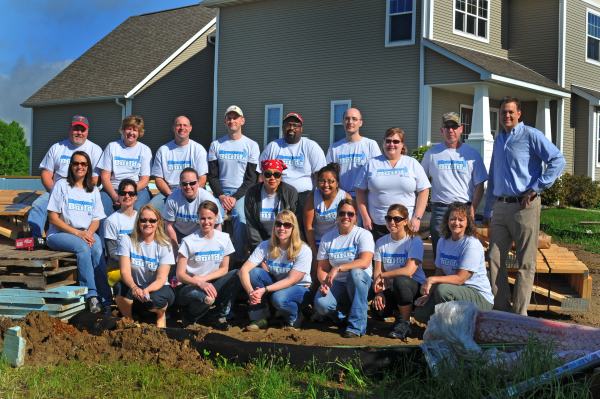 Bluestem volunteers take a moment for a group photo on the first day of building.
"Building a house together provides opportunities for us to work as equals on a team, which matches our corporate culture. Partnering with Habitat for Humanity is a great opportunity for us to show how passionate Bluestem employees are about improving people's lives," said Shawn Moren, Senior Vice President of Human Resources at Bluestem.
Bluestem's support has already made an impact for a family in need. After the 10 weeks of construction is completed by Bluestem volunteers, the Simbi family will be able to purchase their new Habitat home in Chaska.

Andjelani and Tabu Simbi are the parents of seven children aged 4-17 years old. Originally from the Congo, the couple fled as the Republic of the Congo Civil War began to take shape. In 2010, the Simbis came to New Jersey and later relocated to Minnesota. The family's current house just isn't big enough for the entire family, but their new Habitat Home in Chaska will give them plenty of space and a safe neighborhood for the kids to grow up in.

"Around the world, many families never have a house. I am happy to be able to give my whole family a home," said Tabu Simbi.

Bluestem is excited to help the Simbi family start their new life.
"We chose to partner with Habitat because Bluestem employees wanted to combine their donations and volunteer time where we could make a tangible impact for a family and a community," Moren added.
Bluestem's strong support of Twin Cities Habitat suggests a promising partnership in the future.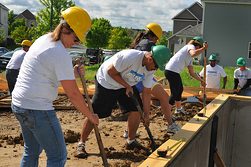 "Bluestem is a great partner in our mission," said Susan Haigh, President and CEO of Twin Cities Habitat for Humanity. "Their financial and volunteer support is tremendous. We look forward to partnering with them long-term to build safe, affordable homes that will continue to strengthen families and communities."
Bluestem is also optimistic about a long-term partnership.

"We hope this is the beginning of a long future with Twin Cities Habitat for Humanity," Moren said. "With locations in Saint Cloud and Eden Prairie, we hope to build a home each year between the Twin Cities and Central Minnesota Habitat for Humanity affiliates."