Volunteer Testimony: The Joy of Volunteering
Posted by Matt Beachey on .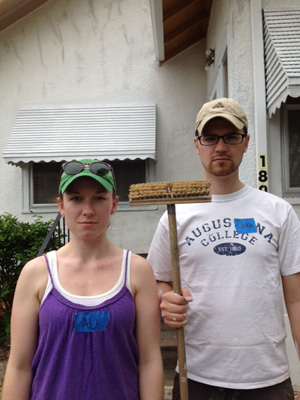 I have always loved volunteering. Growing up with a roof over my head, I never really realized what a luxury that was. Throughout high school and college, I volunteered with various different organizations. Once I graduated from college, I wanted to volunteer more, but this time involve more of my friends. I had always wanted to volunteer with Habitat and had never really pursued it. It seemed fitting to pull my friends and family together to volunteer on my birthday. Having never volunteered with Habitat, I had absolutely no idea if Habitat even did builds in the winter. I contacted Habitat in October to see if I had to try to fit my "birthday build" in earlier than December. I found out that Habitat builds throughout the year and that I could help out on my actual birthday, December 9th.
So on December 9th, 2011, I gathered 10 of my friends and family members and we helped on a build in Crystal. Being a complete novice to home building, I was a bit scared as to what projects we may be doing. When we arrived on that snowy Friday morning, we dove right into cabinet building, vinyl floor laying, painting and trim repair.
I found myself on the vinyl floor project. Who knew I could use a saw and lay vinyl flooring?! We had such a blast! Since we had so much fun, I challenged myself (and ultimately my friends) to continue building and helping with Habitat once a month for 2012. Now, in November and we've volunteered building 6 homes, worked at ReStore twice, fixed up a home with A Brush With Kindness, landscaped for new home owners and built stud walls at the plant. We have made so many memories with Habitat over the last 12 months.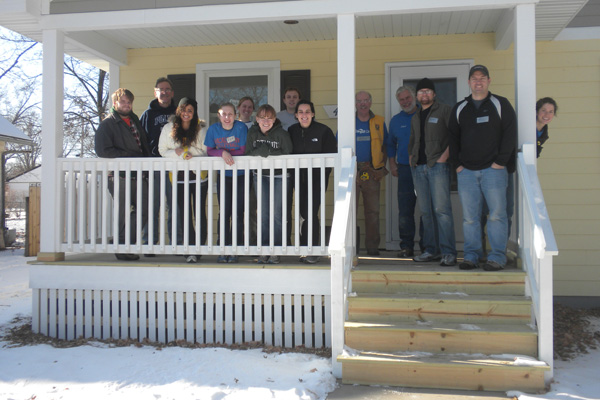 Volunteering with Habitat pushes you to learn more about yourself and your friends. I can tile a shower now! Who knew?! We were also able to work alongside the new home owners several times. It is so rewarding after a long morning landscaping with the family to have the kids run to your car when you leave saying "thank you" and "come visit us". Knowing that each family's new home gives them a new beginning is incredibly rewarding. Helping build and grow our community in such a wonderful way with Habitat is the greatest birthday gift!
Hopefully, this year we can have the 2nd annual "birthday build"!
-Ali Nystrom