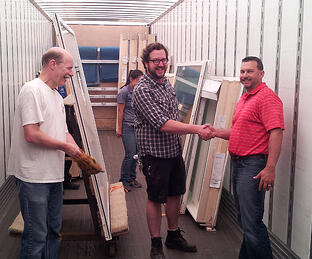 Contractors end up with idle assets. It happens. Whether it's the result of a job falling through, a cancelled order or a clerical error, they are bound to accumulate valuable goods that just sit there.
Such was the case with PCS Residential, a general contractor located in Eagan. After a massive order fell through, PCS wound up with twenty six brand new windows of the highest quality.
But instead of selling them for quick cash, or disposing them, PCS donated the windows to the Twin Cities Habitat Restore, where they will be sold at a reasonable price and the profits will go to the building of a Habitat home.
"Our hope is that someone walks in, sees potential in the windows and they are put to good use," said Dom Korbel, operations manager at PCS Residential. "We hope they will be turned into a financial boost for Twin Cities Habitat for Humanity."
The windows are manufactured by Kolbe & Kolbe, a brand known for producing top-quality windows and doors. "They're nice, brand new Kolbe windows. They'll sell quick," said Grant, sales associate at the ReStore, who is pictured above shaking hands with Dom. "Guaranteed."
Pete O'Keefe, manager at the Twin Cities Habitat ReStore, sees the PCS Residential donation as part of a larger goal for the store: "The ReStore has barely tapped into contractor donations such as the group of windows generously offered from PCS Residential. We are confident that the revenue from similar material donations will help us build a few homes this year."
The donation, as with every donation to the ReStore, was fully tax-deductible. 100% of the proceeds will go to supporting Habitat's mission, eventually funding the construction of a Habitat home. If you would like to learn more about the ReStore, or have products or materials you would like to donate, please click the banner below: