During the first Sunday service in February, First Universalist Church Reverends Jen Crow and Justin Schroeder presented Twin Cities Habitat for Humanity with a check from their congregations' The House That Love Built fundraising efforts over the holiday season.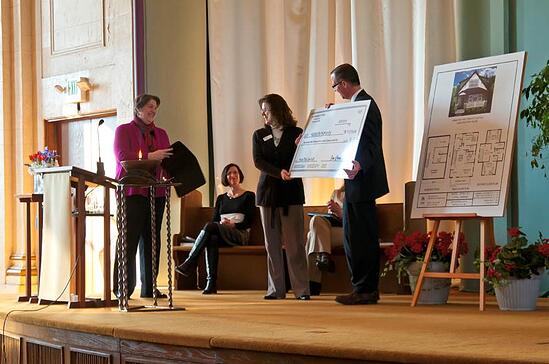 Prior to the reveal of the check amount, Rev. Jen shared a few words about the how The House That Love Built came to be:
"Many months ago, our congregation made the decision to dare greatly. The leaders of our partnership program with Habitat for Humanity came forward with a vision. Could we become the primary financial sponsor for a home with Habitat for Humanity, they asked? They shared their vision with the leaders of our Housing Justice Ministry Team, with our Director of Faith in Action, and with the ministers, and together we said yes. It felt like a bold goal -to raise $60,000. But we challenged ourselves. We challenged ourselves to reclaim the true meaning of the holidays by focusing on the gifts of light and hope we can offer one another in the darkness. We challenged one another to change our holiday spending so that we could give each cent we received to work together with a family and other volunteers to build the house. We got creative, and we walked together..."
With the wonderful generosity from their congregation and community members, The House That Love Built initiative raised $115,916.66 - nearly double the original leadership goal of $60,000! As a result of their efforts, the church will become a sponsor of a Habitat for Humanity home in the Twin Cities, and members will have the opportunity to help out on the build, which will begin in May this year.