Coalition empowers volunteers and impacts families
By Habitat Staff
The new Habitat home at 512 Van Buren in St. Paul marks the 20th complete home that Holy Hammers, an ecumenical coalition of 14 local churches, has fully built. Holy Hammers has partnered with Twin Cities Habitat for Humanity since 1999, providing funding and volunteers to help build homes for low-income families. In addition to these full twenty homes, the coalition has also provided partial support for eight other homes.
The coalition this year is comprised of Centennial United Methodist Church of Roseville, Christ the King Lutheran Church of White Bear Lake, Corpus Christi Catholic Church of Roseville, Falcon Heights United Church of Christ, Incarnation Lutheran Church of New Brighton, Lutheran Church of the Resurrection of St. Paul, New Brighton United Church of Christ, New Life Presbyterian Church of Roseville, Our Savior's Lutheran Church of Circle Pines, Prince of Peace Lutheran Church of Roseville, Presbyterian Church of the Way of Shoreview, Saint Rose of Lima Catholic Church of Roseville, Shepherd of the Hills Lutheran Church of Shoreview, and St. Michael's Lutheran Church of Roseville.
I had the fortune to join Holy Hammers for a lunch break a few weeks ago. I chatted with different volunteers and I sat down and chatted with Judy Murakami, chair of the coalition, about the organization's origins and how they've been able to accomplish so much over the years.
I didn't realize when I joined the crew that I had stumbled into the coalition's Women's Week. I first chatted with Barb Peterson, the crew leader for the week. Barb is a 3M and Ecolab retiree and member of New Brighton United Church of Christ, who now spends much of her time volunteering. "It may not be traditionally recreational," she says, "but volunteering for Habitat is re-creational." Barb started volunteering with Habitat for Humanity in her early 30s. She kept coming back to Habitat because it was "rewarding as a woman to learn there are secrets and that construction is relatively easy to learn. In this field, if I had the right tools and knew how to use them, I could do anything."
Her personal empowerment from learning construction and her relationship with Habitat over the years is part of why she was the crew leader on this particular week. "With just women here this week," she explained, "they're able to try things out in a supportive environment. I find that with mixed groups in construction women sometimes act more timidly or self-consciously. When it's just us we all work together and trust each other. I learned that even though I'm little, I can still carry things and if something is heavy it might take a few more of us than the men, but at least we're carrying it together."
It seems fitting that Holy Hammers would now devote a full week to empowering women volunteers, given that their origins surround around devoting one particular woman and her family. Parishioners from Judy Murakami's church, Presbyterian Church of The Way in Shoreview, created an organization called Together, Inc to purchase homes and help refugees in the 1970s. They sponsored a Vietnamese woman Quy Vuong and her seven children who moved into a home in St. Paul. By 1993, the children were grown up, and Quy had passed away. Together, Inc decided that the best way to continue helping more immigrant families was to join their efforts with an existing organization with a similar mission—Twin Cities Habitat for Humanity. The coalition donated the land to Habitat and in the summer of 1996, the church members built a new house on the same land with Habitat on this property for another young immigrant family.
Two years later, Presbyterian Church of the Way teamed up with 8 other area congregations to work together with their first Twin Cities Habitat for Humanity work camp. Since then, they coalition has expanded to include now 14 congregations. Since 2006 the coalition has pulled together their resources to sponsor half a Habitat home at the Cornerstone sponsorship level, often surpassing their goals. When I asked about this, Judy explained "every congregation has the same goals in raising funds. Congregations self-identify how much they think they'll be able to fundraise and how much volunteer interest they'll be able to generate. There is no requirement for joining our coalition---we're all working together for the same end goal."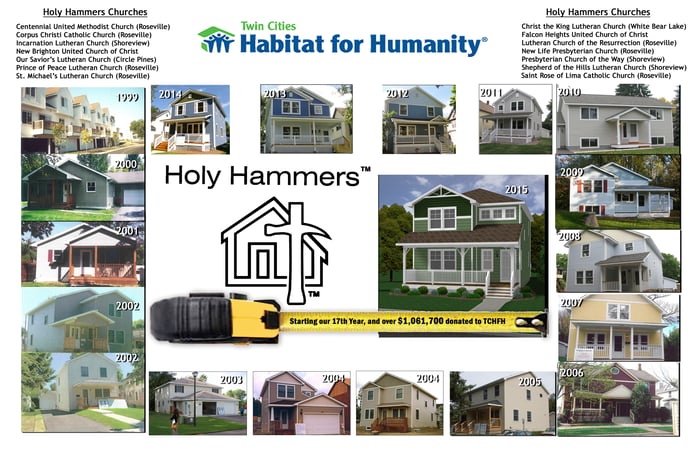 It's empowering that the coalition's steering committee and all their volunteers are organized solely by the laypeople of the congregations, not necessarily the official church leadership. "It's important," Judy says, "to see that I have just as much responsibility in my congregation as any other of the volunteers I'm asking to join us. We're just a group of passionate people within each church. We just want to build."
Judy has been a part of the coalition since its nascent stages as Together, Inc. The work she does with Holy Hammers reinvigorates her to keep going: "It's for the families, their stories. All the families I've worked with have been so hard working and just want a safe place to raise their children, just like everyone else." She continued, "We get as much from volunteering as the families get from buying the home affordably."
As a volunteer coordinator, Judy believes "it's important to involve as many people as possible. People want to feel involved in the mission and feel like they're a part of all this work, even if they aren't able to physically build or commit to a full day of working." Judy organizes volunteers to pray for the builders and the families, to make phone calls reminding folks to volunteer, make meals to feed the volunteers, and bring the meals over to the worksite and serve them, and to clean up when lunch is over. "It's important for people to feel needed, whether it's building or supporting the builders, we all need to do our part to include and support each other.
On the nature of the coalition strategy, Judy says it's interpersonally important for different churches to work together. It's not only efficient, but it enables parishioners of different faiths to learn more about each other's faiths and generates a greater capacity for empathy and human connection. "At one of our first dedication ceremonies in the early 90s, we realized that our pastors didn't know each other but of course us workers and organizers did. I think churches really miss out on many opportunities when they keep themselves insular. It doesn't make any difference what denomination anyone is. Everyone needs housing and everyone wants to be a part of this meaningful work to build homes and bring joy."
The family moving into their 20th home is comprised of 9 people. Parents Nuruddin & Dekha and their 7 children, Daauud (16 yrs), Aisha (16 yrs), Zumayo (14 yrs), Abdirahman (12 yrs), Abdisalan (10 yrs), Abdulahi (8 yrs), & Abdirasaq (6 yrs) are excited to live out their dream in their new house. The family is very energetic and likes to play outside as well as watch nature shows. Daauud is on his high school basketball team and his siblings like biking, soccer, and football.
Habitat for Humanity is grateful to work with Holy Hammers again as they complete their 20th home for another hard-working family. Thank you to Holy Hammers for all of your passion, organization, service, and dedication