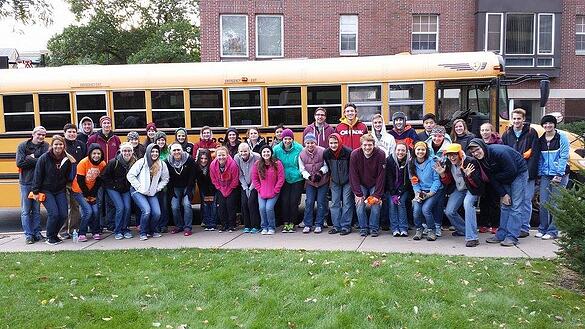 A group of passionate University of Minnesota students have been busy this fall to help spread the mission of Habitat for Humanity and bring attention to housing issues in the Twin Cities. The Habitat for Humanity U of M Campus Chapter creates ways for students to advocate, volunteer, fundraise and most importantly become leaders in their community. An executive board of 16 members coordinates numerous volunteer opportunities, fundraisers and advocacy events for hundreds of students to participate in each year. Hannah Botsford, a junior executive board member,wants to start recruiting students during their first year on campus.
"My goal for the chapter this year is to increase the involvement of our members. This year we're offering new executive positions to freshmen to increase involvement."
In the beginning of October the chapter hosted their first build day – MegaBuild. Student volunteers were sent to five different Habitat construction sites across the Twin Cities metro. New members had the opportunity to build alongside future homeowners, learn about Habitat's impact in the community and become familiar with the chapter.
Later in the month, the first advocacy event of the year – ShantyTown – was held on the front lawn at Coffman Memorial Union. During the overnight event, students constructed cardboard shanties, made tie blankets to be donated to a homeless shelter and spent the night outdoors to raise awareness for homelessness in the Twin Cities and the role Habitat plays in assisting individuals across the housing continuum.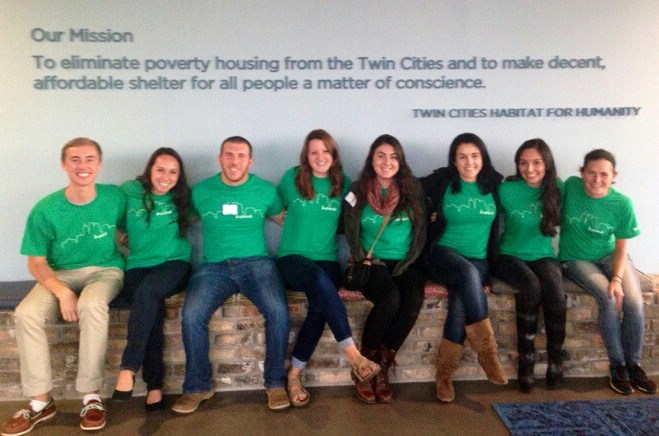 Later in the year the chapter will lead three winter-break volunteer trips. In the spring, the group hosts Act! Speak! Build! Week, which combines volunteering, advocating and a 5K fundraiser. The chapter is even sending five board members to Charlotte, North Carolina for the Youth Leadership Conference to keep the chapter successful for years to come.
"I chose to serve on the board after my freshman year. I took a spring break trip to Los Angeles and it was one of the top highlights of my year. After my trip, I really wanted to support the organization because I had been able to see the great things that it can do for families," said Botsford.
This November the campus chapter is using their leadership skills to fundraise for Give the Max Day.They hope to reach a goal of $5,000 to help local families and children own a home. Fundraising helps the chapter reach more students and make a deeper community impact - all while building their leadership skills. Follow the link below to support the Habitat for Humanity University of Minnesota Campus Chapter on Give to the Max Day this year.
To learn more about the U of M Campus Chapter follow them on Facebook!