The Faith Builders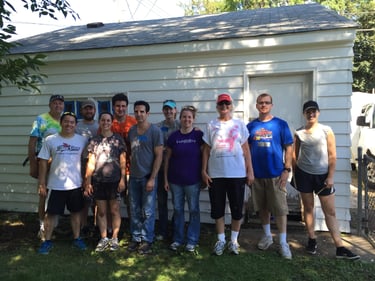 regular crew is still a relatively new crew at Habitat, but their commitment to serving others is not new.
"We are called by God to help those less fortunate or those in need. Volunteering is a part of that call," says Faith Builders crew member Tim Mueller.
The group, which started in the spring, is made up of members of Faith Baptist Church in North Minneapolis.
Earlier this year Jaci, a member of Faith Baptist, decided to ask other members of the church to get involved with Habitat and volunteer.
Her previous volunteer experiences with Habitat were "just way too much fun not to share with other people" and, as the church is always looking for avenues to give back to the community, she thought volunteering with Habitat might be a good way to do so;
"There's something so special about Habitat sites. It's a combination of great homeowners, passionate site supervisors, selfless volunteers and power tools. Serving, learning, meeting new people, bonding with friends - the environment is just so uplifting. You're doing way more than framing a wall, building a deck, or shingling a roof - you're building someone's future home. I can't recommend volunteering for Habitat for Humanity highly enough. So much so, I started Faith Builders at my church, Faith Baptist Church, to volunteer regularly together as a church body."
She had 25 people sign up with about 10 of them continuing to volunteer regularly.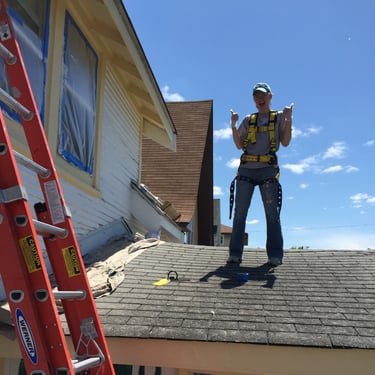 According to Tim, Jaci was the right person to coordinate everything, "Jaci has a big heart for volunteering and a big heart for Habitat."
Jaci's love of Habitat began the very first time she volunteered, "I have loved Habitat since my very first day of volunteering on a college trip to Arkansas. We were roofing the whole first day in very cold, windy weather and I still loved it."
Other members of the crew have quickly come to share this feeling;
"My favorite part of Habitat of Humanity is the feeling of improving something, as a team, honing skills," says Matt Meisch.
As the members are unable to volunteer during the work week, they schedule to build on Saturdays. During the summer and early fall they did some of their volunteer days working on A Brush with Kindness repair projects.
After one project they received a very special letter from a homeowner: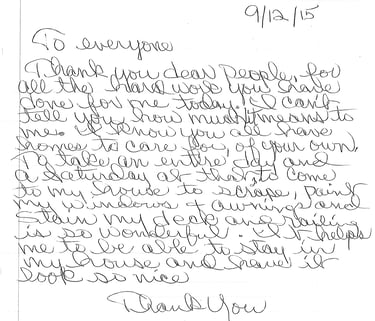 "To everyone,
Thank you dear people, for all the hard work you have done for me today. I can't tell you how much it means to me. I know you all have homes to care for, of your own. To take an entire day and, a Saturday at that, to come to my house to scrape, paint my windows and awnings and stain my deck and railing is so wonderful. It helps me to be able to stay in my house and have it look so nice.
Thank you!"
Tim's advice to anyone that is thinking about volunteering with Habitat is, "You can never regret the decision to volunteer, you can only regret when you don't."
While the crew enjoys working throughout the Twin Cities metropolitan area, as it is all part of their greater community, as residents of North Minneapolis, they particularly enjoy the builds in that area;
"I grew up in North Minneapolis," says Matt. "It feels good to be part of improving my old neighborhood and seeing it turn around."
"The experience has been terrific and we're looking forward to more volunteer days!" says Jaci.
Twin Cities Habitat is blessed to have this dedicated group as one of our regular crews and grateful for all the work they have already done and will continue to do.