Last week, 15 faith leaders spent their day volunteering on a Habitat construction site in South Minneapolis' Phillips neighborhood. It was the 3rd Annual Senior Pastor Build, a special volunteer day for congregational leaders to show their commitment to affordable housing.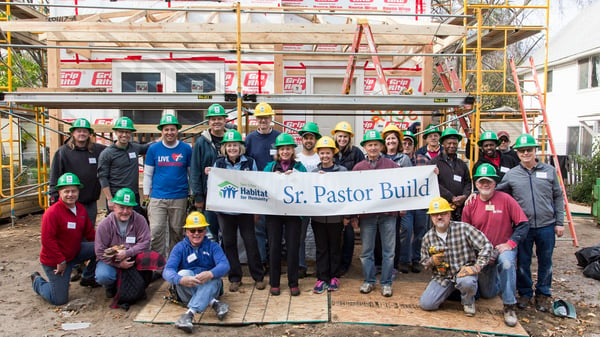 The senior pastors worked alongside homebuyer, Issa, who will buy the home for his family of ten. Issa is at the start of his partnership with Habitat, while long-time homeowner, Juanita, has experienced many years of stability since buying her Habitat home in 1994.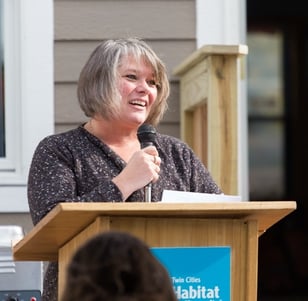 During the lunchtime program, Juanita described the foundation her home provided for her family of seven. She went back to school, earned her degree from the University of Minnesota, and now has a good job at the University. Her husband, Jacques, has stayed in the same workplace for 24 years. Together, they taught their five kids the values of hard work and generosity. Now grown up, their children have all graduated from high school and started on their own paths to success. Read more about Juanita's family here.
Senior Pastor Build is a special day to celebrate faith communities' support of Twin Cities Habitat. Our faith partnerships are as old as we are—the first Twin Cities Habitat home was planned in a church basement and built by congregational volunteers back in 1985.
Today, there are many ways for faith groups to put their faith in action to support Habitat's mission.
1. Volunteer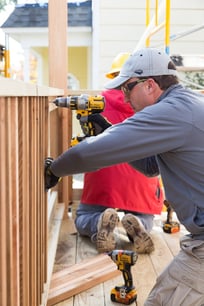 Congregations can organize a day, a week, or more for their members to volunteer on a Habitat construction site, A Brush with Kindness project, or at one of our ReStore locations. Last year, more than 3,500 of our volunteers participated through their faith communities. Often, faith group members who don't want to build will participate by delivering lunch to the volunteers on site.
2. Fundraise
Last year, faith groups contributed $435,668 toward Twin Cities Habitat's mission. Some groups come up with creative ideas, such as Mount Olivet's annual Blues, Brews, and BBQs concert.
3. Form a coalition and start a regular crew
Many congregations have partnered with other faith groups to form coalitions—groups that fundraise and volunteer together. Some coalitions even create Regular Crews for members who want to volunteer multiple days a month or more. Last year, 13 coalitions made up of 67 congregations participated in Habitat's work.
4. Advocate
Advocacy can be fun and easy. Make your voice heard as a Habitat Housing Hero: Advocate for affordable housing at the local, state, and federal level.
5. Encourage youth group involvement
We have many opportunities for kids and teens to participate in our work, including as a ReStore volunteer (ages 14+), on landscaping projects (ages 14+), by baking cookies for volunteer recognition, or through youth workshops.
6. Host a ReStore donation drive
Faith communities can encourage their members to donate to our ReStore. Their attics will be happy and ReStore sales support affordable homeownership in our community.
7. Bake cookies
We love to thank our volunteers with cookie deliveries and we're always looking for more people to bake with love.
We're so grateful for our faith group partnerships. Want to put your faith in action through Habitat's mission? Click one of the links above or reach out to Jackie.Peak@tchabitat.org.