Guest Blog by Jackie Peak,
Twin Cities Habitat for Humanity Staff
Summer is a time for BBQ, brews and live blues music! On Saturday, August 5th Mount Olivet Lutheran Church of Plymouth held their 6th Annual Blues, Brews N BBQs, with more than 1,000 music fans and food lovers in attendance.
Mount Olivet Lutheran Church of Plymouth continues to host the event on its spacious campus as part of its Higher Grounds music series. Blues, Brews & BBQs uses its unique musical platform to bring the community together and support the work of Twin Cities Habitat for Humanity and PRISM, a social service agency for individuals seeking food, clothing and shelter.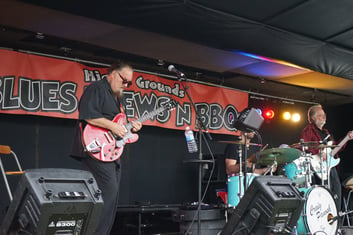 This is not the only way Mount Olivet partners with Habitat. This summer, we became one of Mount's Olivet's official community partners through their Benevolence Fund. Pastor Beth Horsch is excited and eager to see what comes from this new partnership:
"In these partnerships, Mount Olivet commits to sharing financial resources and our active presence with volunteering, participating and advocating in the work of these organizations both individually and also as a community." To Pastor Beth, these partnerships are a necessity to the congregation as they believe that "God shows up when we both give and receive hospitality. In partnerships, we have the opportunity to do both and to be an active presence in our communities."
On July 12, the staff of Mount Olivet took this partnership a step further and participated in an All Staff Build Day. According to Pastor Beth, "We like to engage with our partners in their work, to see a slice of life. It is good for us as staff to break the routine and work together beyond our normal roles."
Twin Cities Habitat is incredibly grateful for partnerships like these.
To learn how your congregation can partner with Twin Cities Habitat for Humanity to help families build better lives for themselves, visit our volunteer page.