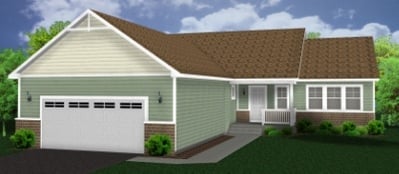 Last September, Twin Cities Habitat kicked off three home build projects in the Woodland Village in Blaine – the first Habitat homes built in the north metro community. These are the first of a total of eight Habitat homes that will be built in this neighborhood, all of which will be completed by 2018.

Over the past few months, volunteers have been hard at work to complete the homes in time for their upcoming spring dedications.

"Our regular crews and youth, college, faith and corporate groups have stepped up in a big way to help us complete these first three homes in the Blaine area," said Anne Elliott-Thul, Manager of Constituent and Volunteer Programs at Twin Cities Habitat.

"The community has been wonderful," said Tara Lumley, one of the Twin Cities Habitat Supervisors in charge of the Blaine homebuilding projects. "One neighbor came to volunteer with us for a day, and others have stopped by to say that they are glad we are here."

The homebuyers have also been out on site, working alongside the volunteers to put the finishing touches on their new homes.
Meet the Families
Bonna, Intisar and their four kids are excited about their new home in Blaine. Both parents currently work in the Blaine community, and travel from St. Paul as part of their daily commute. In the future, they hope to own their own business. This home also has a special significance for both Bonna and Intisar, as they are each the first members of their families to purchase a home!
Fellow first-in-their-family homeowners are Dhanapati and Uma, who are purchasing another of the Blaine homes. The family of five is looking forward to being a part of the Blaine community, and to finally have a safe space where their children can play and study in peace.
"Thank you for your valuable time and work!" - Message from Dhanapati and Uma's family

| | |
| --- | --- |
| | |
| Said & Badriya's family | Dhanapati & Uma |
Said, Badriya and their four children are very proud to be buying a home of their own in Blaine. They are looking forward to being closer to grocery stores, parks and the children's school. Their new home will provide much more space for their children to play, and the family is looking forward to getting involved with their local community. They have already met the other Habitat families that will be their neighbors, and plan to put the skills they learned through their sweat equity hours to good use. The family will also be closer to Badriya's brother and his family, who live in a Habitat home in nearby Fridley!
"The families are great," Tara said. "Uma comes by often to check on the process of the homes. She even brought her entire family the other day! Bonna is a very kind man, and is very grateful. Said is excited as well. He has brought treats out to the volunteers many times."
Celebrating with the Community
Habitat will be celebrating the new homes and their homeowners in a special home dedication ceremony planned for later this spring. All volunteers, donors, staff, neighbors and community members are invited to attend to help welcome the family to the Blaine community! Keep an eye on our homepage for more details.
What's next?
Habitat will build two more homes in Blaine this year, and individual volunteers will be needed later this fall. In the neighboring city of Hugo, volunteers are needed to lend a hand in early-mid August. To learn more about timely volunteer needs at Twin Cities Habitat, be sure to sign up for our volunteer email alerts and e-newsletter.