Twin Cities Habitat for Humanity's donate your birthday program offe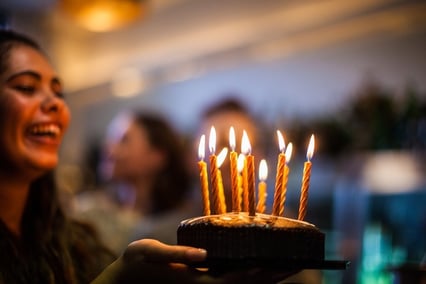 rs donors and volunteers an exciting and meaningful way to
make an impact for hard-working families! Instead of receiving gifts, give a gift that will help a family buy a safe, decent and affordable home. Ask your friends and family to donate to Habitat for your birthday and share with them why you believe in Habitat's mission to empower families.
Here are a few tips to make your efforts easier:
If your page is already created, do a quick review to make sure you aren't missing anything. If you still need to create your page and sign up, do so here.
1. Personalization
Add a picture of yourself volunteering on a build site or at a Habitat event. Show your friends and family why you support Habitat and then tell them why you believe every family deserves a safe home. Explain why you started supporting Habitat and why you believe Habitat helps families break the generational cycle of poverty.
2. Set your goal and set an example
People love to feel their contribution is working to reach a goal! The closer you are to making your goal, the more willing people will be to give because it gives a greater sense of accomplishment. Therefore, set an example and make a donation to your own page. It shows your friends you are serious and more people will jump on board.
P.S. This is also a good time to ask your closest friends and family to donate, to help you build some confidence before you ask your network.
Now it's time to get the word out and start collecting donations! Here are a few quick tips on sending emails or social media posts.
Don't forget to include your link or share it straight from the donation page. And last but not least—have fun with the asking and get creative! When others see how passionate you are, they will want to make a difference too.
Insider Tip: Recognize your donors! Write heartfelt Thank Yous or update your social media with rock star donors. People love to be recognized for their good deeds, and a Thank You will show your donors how grateful you are for their gift.
If you want more information on Habitat to share, visit our blog!