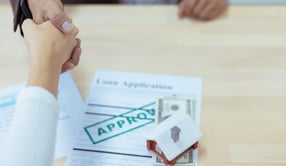 No matter what lender you use to buy a home, you will need to gather fairly extensive financial documents in order to go through the application process. This includes buyers who qualify for the Twin Cities Habitat for Humanity Financial Coaching Program or the Homeownership Program. The required materials include things like photo identification, tax forms, employment verification and other related documents. To make your application process a little easier, we've listed all the necessary materials and some helpful tips on where to find them.
A Social Security Number
We need the Social Security number of every adult in your household in order to verify identity. If you need a copy of your Social Security card, you can apply for a new one here or call 1-800-772-1213.
Four Most Recent Months of Pay Stubs for Each Job in Your Household
To verify how much income the adults in your household earn, you will need to print, copy, or save pay statements for 8 straight pay periods, which is 4 months (16 weeks) for jobs that pay bi-weekly, or every two weeks. Some jobs pay every week, every two weeks, or once a month. If you or your adult household members have more than one job, please provide four of the most recent months of pay stubs from each job. This includes full-time, part-time, seasonal, and temporary work.
If you're not sure what a pay stub should look like, here's an example.
Employment Verification Letter from Your Employer(s)
To verify when you started at each job, your regular hours, and pay, you will need to ask your employer to write a letter or fill out an employment verification form. Ask your Human Resources Department or boss to provide a letter that includes:
The date you were hired
The number of regular hours you work per week
Your wage per hour
If you have more than one job, you need a letter from each employer.
This letter will verify that you have been employed at least one year at the company, or two years if you are self-employed. This is one of the required documents for your application. An example letter can be found here.
Some employers like to fill in a form, so you can print and send them a physical copy or use an outside source to verify employment, like The Work Number. Your employer can provide you with the company code for future verification, and you can fill out this form.
Benefit Income Verification Letters
If anyone in your household receives income from a government program such as the Minnesota Family Investment Program (MFIP), Supplemental Security Income (SSI), Social Security, Social Security Disability Insurance (SSDI), or Retirement, Survivors, Disability Insurance (RSDI), you'll need to provide the most recent benefit verification letters with your application.
If you don't have these documents on hand, you can request copies online by creating a "my Social Security" account. To open an online account, you must be at least 18 years old and have a valid email address, a Social Security number, and a U.S. mailing address. Click here to set up an account. Please note that instructions will be in English only.
If you need further assistance, call Social Security at 1-800-772-1213.
Verification of Other Income
When we say "other income," we're talking about alimony, child support, or regular income received from parents or relatives. If you receive any of these, please provide these two items:
Most recent 6-month history of payments
A court order or notarized letter (or similar agreement) to verify how much you receive and how often you receive the payments
Proof of payments may be provided with 6 months of bank statements showing deposits, or by providing the statements from your online state-run child support account.
Verification of No Income
If you or an adult in your household currently have no income, please fill out and sign the Zero Income Verification form.
Tax Information
Individuals who are self-employed must provide pages 1 and 2 of their 1040, Schedule 1, and all Schedules C, from the past two years. If you didn't save a copy of your tax forms, contact your tax preparer, or you can easily find them online, or you can seek help by calling 1-800-908-9946 and following the voice prompts.
You can also pick up a tax form transcript in person. Call 651-312-8082 for the nearest location.
To see a 2021 example of the tax forms you should be submitting, click here to see a 1040, click here to see a Schedule C, and click here to see a Schedule 1.
Application Household Members
On the application you will need to provide the name, birthdate, gender, and relationship to you for all persons living with you. This includes both children and adults.
Color Photo ID of Adults
This could be your MN Driver's License, MN ID Card, Passport, or your US Permanent Resident Card. If you don't have a scanner at home, you can take a photo of your ID with your phone, email it to yourself and upload it into your application. If you don't have a Minnesota photo ID, contact your local Department of Motor Vehicles (DMV).
Twin Cities Habitat for Humanity Homeownership Program Release of Information & Data Privacy
This form is specific to Twin Cities Habitat for Humanity's program. All household members 18 years or older will need to sign this form as part of the application process for information release and data privacy purposes.
Application Signature Page
Any household members 18 years or older must sign this document to verify application information has been read.
Combined Privacy Act Notice
As an additional privacy disclosure, all household members 18 years or older must also sign this document.
Credit Authorization Form
Any applicants (household members whose income and credit are considered to buy a home together) will need to sign this form, or bring/submit a recent credit report.
Unofficial High School or College Transcripts
If anyone in your family is 18 years or older, earning an income, and going to school full-time, please provide a copy of their unofficial transcripts. These documents can be obtained online, from the school's Registrar's office or Student Services office.
Application Fee
With all that said, the only thing left now is to pay your application fee. The application fee is $55 for two applicants or $35 for a single applicant. You can pay with money order, cash, or card. Please know that we don't accept checks.
This application fee is non-refundable. When you apply online, you'll be redirected to the payment page as soon as you submit your application.
Most of the information included in this list is available online and can be collected digitally or printed off at your local library. We hope this list can serve as a resource for you as you get ready to submit your program application. If you gather one item each day, you'll be ready to submit your complete application in under two weeks!
If you still have questions on the application process, or would like to submit your application with a Habitat staff member, you can email us at apply@tchabitat.org or call us at 612-540-5660.