Since late-August, three powerful hurricanes have rocked Texas, Louisiana, Florida, Puerto Rico, and the Caribbean. Responders are still measuring the devastation following Hurricanes Harvey, Irma, and Maria, but cost estimates are in the hundreds of billions of dollars. I am encouraged by the outpouring of compassion and generosity in response to these disasters. As Habitat for Humanity has done before, we've launched disaster response efforts in the affected areas and developed a plan for the long recovery road ahead.
How can I help?
Since we're getting this question a lot, let me provide an answer first before I dig into all the details:
Donate: Habitat for Humanity will continue its efforts as long as the need is unmet and the funds are available. The need is huge, so that means we need you to give generously.
Volunteer: We will need thousands of volunteers in the months and years to come. Sign up for alerts to learn about volunteer opportunities when they are made available.
Please note: We appreciate that you are anxious to help, but please do not self-deploy. Shelter, food, and water are in limited supply and the arrival of unexpected volunteers adds to an already strained situation. Volunteers from outside the immediate area will be needed, now is just not the time.
What is Habitat's plan?
Jonathan Reckford, CEO of Habitat for Humanity International, described the Habitat Hammers Back action plan in a recent letter. The plan, which will unfold over the coming months and years, has three phases:
Immediate response: Habitat Mobile Response Units and Disaster Corps volunteers are supporting local Habitat affiliates to:
Assess damage
Remove debris
Perform immediate repairs
Coordinate with other responders
Prepare for long-term recovery
Community stabilization will help families understand the recovery process and access resources by:
Helping with insurance claims and applications for emergency government assistance
Determining funding gaps for house repairs and construction
Disbursing funds to local Habitat organizations to support repair and rebuilding; and
Designing long-term rebuilding plans.
Long-term recovery will continue for years through local Habitat affiliates to:
Repair damaged houses
Construct new affordable housing
Mobilize volunteers from around the country
Engage in collaborative partnerships with other recovery organizations
Why Habitat?
Natural disasters hit low-income people harder than middle- and higher-income people. The Brookings Institution, a non-partisan Washington think tank, recently published a report describing disasters' impact on low-income people. Of course, storms don't discriminate, but there are many reasons that lower-income people are more vulnerable during disasters and face greater challenges during recovery. The report explains that low-income neighborhoods are more likely to be in susceptible areas, such as in flood zones or near chemical plants. The subsequent economic consequences of storms are also harder on low-income people, who are less likely to have flood insurance, have limited flexibility to relocate after a disaster, and can't easily afford to miss work.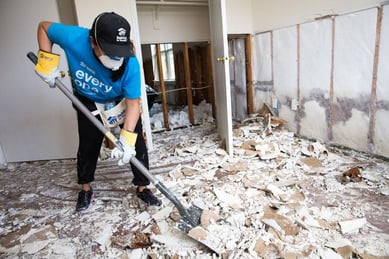 Habitat has decades of experience partnering with low-income families. We know how to mobilize volunteers and build resilient homes affordably. These competencies make us well-suited to have a disaster response program.
Since 1997, Habitat has helped more than 230,000 families in 52 countries following disasters including Superstorm Sandy, tornadoes through the South and Midwest, earthquakes in Haiti and Nepal, and typhoons in the Philippines.
In the 12 years since Katrina, Habitat prepared more than 2,500 homes for rehabilitation and has built more than 6,000 new affordable homes along the U.S. Gulf Coast. When a storm strikes, Habitat's disaster recovery program partners with local Habitat affiliates to address the most critical needs first, then develop a long-term plan.
Here in the Twin Cities, we know a bit about disaster recovery, too. When the 2011 tornado ravaged North Minneapolis, we mobilized volunteers for immediate clean up and expanded our A Brush with Kindness services to include critical home repairs in the affected area. We've also engaged local volunteers to response to natural disasters in Haiti and New Orleans.
What now?
Right now, you can donate to Habitat hurricane recovery efforts and you can sign up for volunteer alerts to be notified when opportunities are available. Habitat is posting updates on efforts. As we learn more from Habitat International and local Habitat affiliates, we will keep you up to date.