Guest Blog by Noah Keller,
Lead Project Manager and Global Engagement Manager
Over the last 15 years, Twin Cities Habitat for Humanity has offered local volunteers the opportunity to build with Habitat internationally through Global Village trips. The trips allow volunteers to visit Habitat affiliates around the world and contribute to their important on-the-ground work. While this amazing program is still on hold, we here at Twin Cities Habitat began looking for ways to create unique build trips in the meantime. The result was our first ever MinneVillage trip, which took place in late April 2022 in Grand Rapids, Minnesota!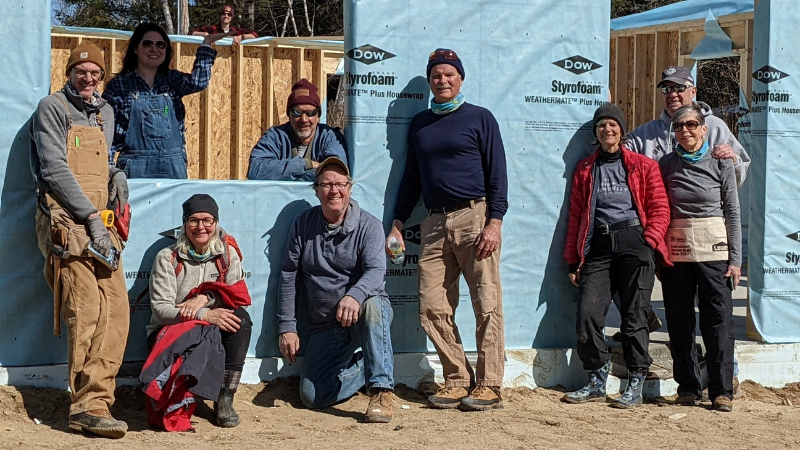 Twin Cities Habitat volunteers at the first MinneVillage trip to Itasca County, MN.
Habitat for Humanity of Minnesota, which supports other Habitat affiliates throughout the state, was instrumental in identifying several greater MN affiliates that were interested in the idea, and we landed on Itasca County Habitat for Humanity as our first MinneVillage partner affiliate. A few months and lots of emails later, Jamie Mjolsness and her team at Itasca Habitat were ready to host our 11-person volunteer team, everyone eager to do our part to frame a new home in Grand Rapids.
Despite a chilly start, day one was productive, and we almost completed the exterior walls. By the end of our third and final day of building, the only complaint was that we wished we could stay a few more days and keep going on the house!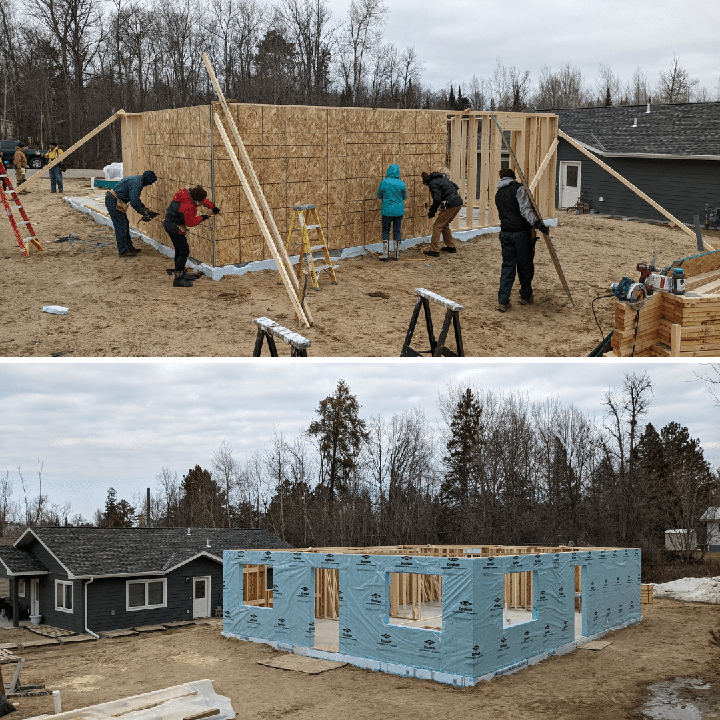 MinneVillage trip volunteers raised walls on a home.
During the trip, we got to do the things that make our Global Village trips so rewarding. We met the homebuyer family who will be moving into the house later this year. We met and worked with new (to us) staff and board members, and enjoyed the expert site supervision (thanks Chris!) that is the hallmark of Habitat affiliates the world over. We worked hard, found our groove, and made great progress on the house. We sampled local food and beverages at places like Blueberry Bowl, Cedar Creek Grille, and Rapids Brewing Co., not to mention amazing donated lunches from Pasties Plus and other local Habitat supporters. Our lodgings were the comfortable confines of Camp Hiawatha, whose staff sent us to site well-fueled each morning after awesome breakfast buffets. We toured the Judy Garland Museum and learned about the area's rich history courtesy of Lilah Crowe with the Itasca County Historical Society. And it wouldn't have been complete without a few special guest appearances!
Emerging from all the activity, energy, and drive to build as a team was the singular commonality that I've been lucky enough to witness on Global Village trips and, now, on my first MinneVillage trip: it is a connection based on the willingness to take a step out of one's day-to-day routine and say "Hi stranger, how can we help?" This sense of community began to take shape when we were welcomed to the build week over dinner, and then evolved into a team whose members – volunteers, staff, everyone who supported in some way – were reluctant to let the week come to a close.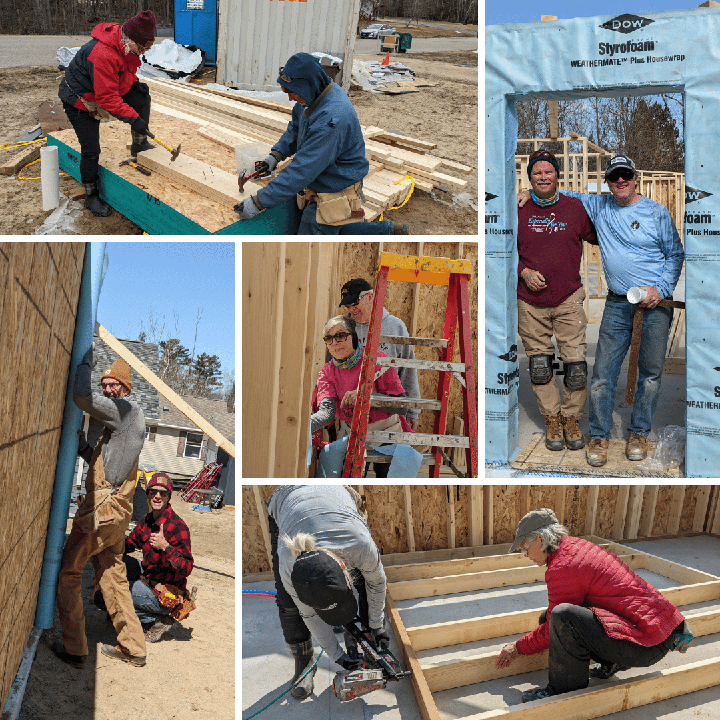 MinneVillage volunteers worked hard and had fun together, building community while visiting a new community.
The good news is that it doesn't take us long to start planning what's next! We are excited to carry this MinneVillage build trip concept forward, partner with other affiliates throughout Minnesota, hopefully host their dedicated volunteers here in the Twin Cities, and foster understanding between individuals and communities while making an impact by creating affordable homeownership opportunities.
As always, we'll keep you updated on all things Global Village AND MinneVillage in the coming months. (If you're interested in being on our Global Village/MinneVillage updated list, please email globalvillage@tchabitat.org.) In the meantime, sign up to build here in the Twin Cities, sharpen your construction skills for your next build trip, introduce yourself to new people, and learn a thing or two about your home community. And, keep an eye out for your next chance to expand your Habitat horizons.