Guest blog by Laura Tanner,
Major Gifts and Planned Giving Officer

National Philanthropy Day is an awards ceremony hosted by the Association of Fundraising Professionals in November to recognize the great contributions of philanthropy— individuals and organizations are honored for their outstanding charitable work in Minnesota. Twin Cities Habitat for Humanity is proud to recognize Bill and Susan Sands as a 2020 National Philanthropy Day Award Honoree in appreciation of their exemplary philanthropic work across the state.
Meet Bill and Susan Sands
Bill and Susan Sands have been dedicated supporters of Twin Cities Habitat and many other Minnesota charitable and educational organizations for more than 20 years.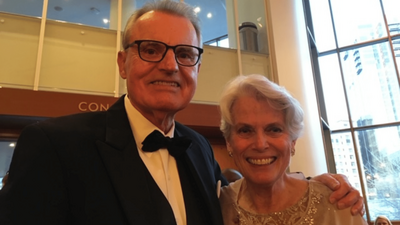 National Philanthropy Day Honorees Bill and Susan Sands
Bill and Susan's community commitment has roots in the Sands family's ownership of Western Bank. Bill expanded the bank's community-minded vision by creating Neighborhood Development Center, one of the first Twin Cities nonprofits dedicated to training and financing small business owners.
Bill hired NDC's first executive director and invested the initial capital to help women, immigrants, and people of color to qualify for loans and build business skills. The ripple effect of Bill's early investment of NDC continues today, as more than 500 program participants are still actively running a business. Those entrepreneurs, in turn, are encouraged to give back and invest in their local community.
Bill and Susan are true servant leaders, taking on fundraising and board roles with many Twin Cities nonprofits including Twin Cities Habitat. Susan served on Twin Cities Habitat's Multiplying the Impact Campaign Cabinet to double Habitat homeownership opportunities for local families. Last year, we hit the major milestone of partnering with more than 100 clients in a single year. Campaign Cabinet members like Susan propelled this growth through generosity and community outreach to help Habitat achieve this transformative goal.
Unwavering Support
Investing in future community leaders, Bill and Susan established the Sands Family Social Venturing Fellowship at the University of Minnesota Carlson School of Business. MBA students receive grants to create a transformative social venture for the benefit of the local community. One of the program's first participants launched the Venn Foundation which promotes Program Related Investments as a tool for philanthropy. Susan serves on the Venn Foundation's board of directors and continues to educate and inspire donors to think creatively about their philanthropy and maximizing their community impact.
Bill serves on the Board of Directors and Development Committee for Ujamaa Place, a human services nonprofit founded in 2009 by leaders in the St. Paul African American community. Ujamaa Place provides transformational and stabilizing support and services for young African American men experiencing inequity at the intersection of race and poverty to help them achieve personal success, focusing on education, housing stability, employment issues, and physical and financial wellness.
As long-time supporters of Twin Cities Habitat, Bill and Susan are committed to Habitat's work to end racial disparities in homeownership. Minnesota has some of the worst racial disparities in the nation, much of which can be tied back to discriminatory housing practices including redlining, racial covenants, steering, and predatory lending. Visit tchabitat.org/race to learn more.
Through these organizations and more, Bill and Susan have shared their time, expertise, and generosity towards making the Twin Cities a better community to call home. Twin Cities Habitat for Humanity is proud to be a Bronze Sponsor of National Philanthropy Day Awards in honor Bill and Susan Sands, and several Habitat friends who are 2020 honorees and finalists: Shakopee Mdewakanton Sioux Community, Ecolab Foundation, and Springboard for the Arts.