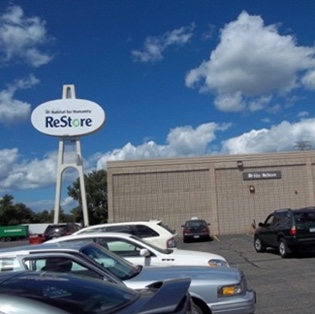 The ReStore, the home improvement outlet run by Twin Cities Habitat for Humanity, has a simple mission – make money to help Habitat build more homes. To achieve the goal the ReStore needs to get more product donations in to have more products to sell in order to raise more money. To get better at doing this, the ReStore is constantly looking for ways to improve. Recently, a group of marketing students from the University of St. Thomas offered their expertise on ways to improve the ReStore's effectiveness, and we're excited about their recommendations!
St. Thomas seniors, Jasmine Branum, Amanda Branch, Maggie Pierson and Christina Wittnebel, under the watchful eye of their instructor Jamal Al-Khatib, of St. Thomas' Small Business Institute, looked at every aspect of the ReStore. They studied the store's operations, merchandising, pricing, customers and marketing strategy. They looked at how the ReStore finds, connects and communicates with customers. They made recommendations on how to serve current donors and shoppers better and how to motivate them to donate and buy more. They identified two market segments with good growth potential and – here's the exciting part – one of those segments is a whole new market for the ReStore! Let's look at what they discovered.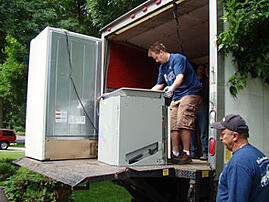 The first segment they identified is institutional users such as builders, remodelers, house flippers, contractors, etc. We are very aware of this group and believe they are probably our single biggest group of customers and donors. The St. Thomas team shared with us more effective ways to expand our connections to institutional users, both to get more of them to donate, as well as how to generate more sales.
To reach this segment, the St. Thomas team suggested expanding our use of traditional marketing print outlets and email. They also suggested ways to improve the experience of these institutional users when they come to the ReStore.
When the St. Thomas team identified female shoppers as the second segment we should target, we were very surprised, but open-minded. When we looked at their research, and suggestions, we were convinced. This group, the research showed, is into do-it-yourself projects, arts and crafts projects, and looking for a different set of products than the institutional customer. The team told us we could best reach this group through social media, blogging partnerships, and other online platforms. They also shared several ideas to create the high-level in-store shopping experience these customers expect.

Now that we've told you we've got a bunch of new ideas, you're probably wondering exactly what they are and what we're going to do differently. Sorry, I can't tell you, at least not yet. What I can tell you, however, is that we are working very hard to create plans, and a timeline, to improve how we connect with customers, and the in-store experience. The plans aren't complete, but they're exciting to formulate. The ideas are fresh and fun and will hopefully make customers want to come back more frequently and make them eager to tell their friends.
Okay, it's true, this whole piece has been a teaser about what's coming next at the ReStore, but don't get frustrated. Like I said, we can't tell you exactly what's going to happen, but we can tell you it's going to happen within the next 60 to 90 days. If you keep an eye on the Habitat blog, subscribe to the ReStore Hot Deals newsletter, and keep an eye on the ReStore website, you'll be the first to discover what's next at the ReStore!
Until then, thank you Jasmine, Amanda, Maggie, Christina, and the St. Thomas Small Business Institute for sharing your ideas and energy with the ReStore and Habitat!