"I really believe one of the most important things for families is to have safe, stable housing. From that strong foundation, our goals about job stability, school performance and improved family health can follow."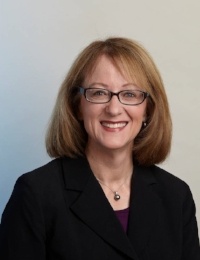 That's Pam Wheelock's short answer as to why she took the job of Chief Operating Officer at Twin Cities Habitat. It's a good indication that she's come to the right place, because that sentiment (that housing impacts almost every part of our lives) is widely shared among Twin Cities Habitat's staff, volunteers, and supporters.
Pam brings a lot of great experience to the leadership team at Twin Cities Habitat. She has worked extensively in the philanthropic, private, and public sectors.
Most recently, Pam served as Vice President of University Services at the University of Minnesota and, in that role, was responsible for facility construction and maintenance, student housing, and other campus operations.
Previous to working at the University, Pam served as Interim President and CEO of Blue Cross Blue Shield of Minnesota, while also serving on its Board of Directors. She is currently a Board Member for Minnesota Philanthropy Partners. Pam was a Vice President at the Bush Foundation and an Executive Vice President and Chief Financial Officer for Minnesota Sports and Entertainment (parent company of the Minnesota Wild). She continues to serve as Board Chair of the Minnesota Wild Foundation.
Pam also has significant public service leadership experience. She served as a legislative assistant to former U.S. Representative Tim Penny. She was one of Governor Jesse Ventura's closest advisors while serving as Commissioner of Finance for the State of Minnesota. Her leadership for the City of St. Paul as Deputy Mayor and Director of Planning and Economic Development was instrumental in the construction of the new Science Museum of Minnesota, the Lawson Commons, the Xcel Energy Center, and the return of hockey to Minnesota.
In each of these previous positions, Pam was responsible for complex challenges. The same is true now as she focuses on helping Twin Cities Habitat reach the ambitious goals of its Impact 2020 strategic plan (the #1 goal is to more than double the number of families that can partner with Twin Cities Habitat on homeownership each year).
"I like complexity," Pam says. "I like trying to solve problems by working with people who are passionate about a topic…I like doing work where you can understand what the outcomes are and you can see them. At Habitat that means there are more families living in homes."
The complexities of Pam's job will stretch beyond just creating more Habitat homeownership opportunities in the Twin Cities. Her duties also cover all of Habitat's homebuilding operations, Habitat's paint and repair program A Brush with Kindness, and Habitat's ReStores.
"I'd known about Habitat for a long, long time," Pam says. "We used to partner with Habitat on projects when I worked for the City of St. Paul. I've also known Sue Haigh (Twin Cities Habitat's President and CEO) for a long time. I think Habitat is a stellar organization and a great avenue for people who want to make a difference in the lives of their neighbors."