Working in fundraising at Habitat, I frequently get calls from people who want to make a gift. Sometimes people say "Sorry, this is all I can afford!" when making their gift to Twin Cities Habitat. Believe me, a little bit can go a long way when used effectively. And no one knows that better than the 158 members of the Carpenter's Club, Habitat's group of sustaining donors.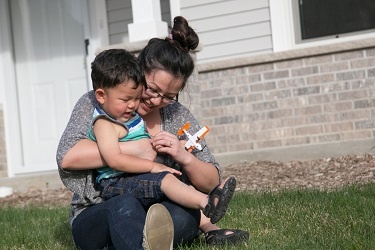 Members of the Carpenter's Club are laying the foundation for Habitat's work, one gift at a time. They sign up to give a recurring monthly gift, either online or through their checking account. Rather than making a big gift once a year, they determine an amount that fits comfortably in their monthly budget.
Habitat strives to build safe, stable homes that follow LEED guidelines, and recurring gifts help Habitat strive for financial sustainability by letting us plan for the future and cut down on mailing costs. Of course, any and all gifts help Habitat's mission and are always needed, but sustaining gifts give Habitat a reliable income to count on.
Together, members of the Carpenter's Club raise over $7,000 a month for Habitat's mission to partner with more families, and as more members join, that number keeps rising. These small gifts add up to make a big difference over time. They buy the nails and lumber that go into every new build or repair project, but they also prepare and equip families on their path to homeownership.
Here's how much your monthly gift could accomplish in one year:
$50/month covers all of the pre-purchase training courses for five families
Most families who partner with Habitat have never owned a home, so every family completes 6-9 pre-purchase training classes that prepare them for the many unique challenges of homeownership. The training includes basic home repair, understanding warranties, community involvement and other important topics.
$25/month covers four one-on-one financial coaching sessions
In Habitat's homeownership program, all families go through individualized financial coaching that's designed to meet families where they are. A coach helps families understand credit, budget, determine what's affordable, and ensure they're financially ready to purchase a Habitat home.
$10/month covers resource books for 30 families
Each family receives a copy of the book Your New Home at closing to complement their training and provide invaluable tips to keep their homes running like new. Habitat also provides each family with a book of resources in the Twin Cities to get help with finding a job, building credit, etc.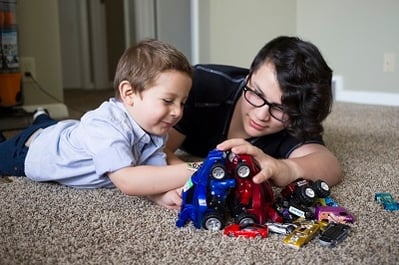 It takes a lot of work and time to become a Habitat homeowner, and your sustaining gifts provide families with the tools to make homeownership happen.
If sustaining families on their path to homeownership with a monthly gift that fits in your budget sounds good to you, now is the perfect time to commit.
A generous donor has agreed to match all new Carpenter's Club members dollar-for-dollar for an entire year. But this matching period ends June 30, so you need to act fast.Your monthly gift will go twice as far--$25 a month will effectively cover eight one-one-one financial coaching sessions instead of four, for example.
Becoming a member of the Carpenter's Club is super easy. You can sign up online with a credit card, or fill out this form and send it to us to donate via checking account. You'll have the ability to change or stop your recurring gift at any time, either online or over the phone. And you won't receive any more appeals in the mail from Habitat—just an annual tax receipt. Plus, Carpenter's Club members enjoy discounts at the Habitat ReStore home improvement outlet (a second ReStore is opening fall 2016) and select events. Consider joining before June 30 to unlock the matching funds!
It turns out that little gifts – especially small sustainable ones – do make a big difference.