The first thing the South Metro regular crew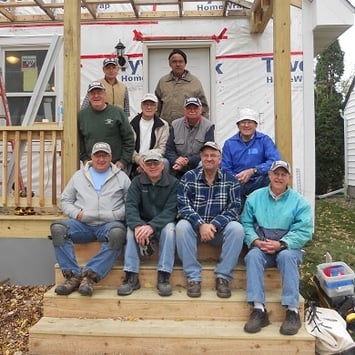 will tell you is that their name is misleading as they rarely work in South Minneapolis anymore. Members have stories about memorable builds in locations throughout the 7 county metropolitan area and they jokingly claim that they work anywhere south of Duluth.
When Dick Hertel joined the South Metro regular crew in 1999 he was the youngest member but he was not the only member to have joined that year. Many of the men have been with the South Metro crew for years and there is such a fun atmosphere on site and camaraderie among the men that it is easy to see why there are so many longtime members.
Jim Wehri, who has been with South Metro for 5 years, says he really enjoys the work and likes all the skills he has learned over the years (after learning a new skill he often goes back home to work on his own house) but the best part of being a member is getting out of the house and being with the guys.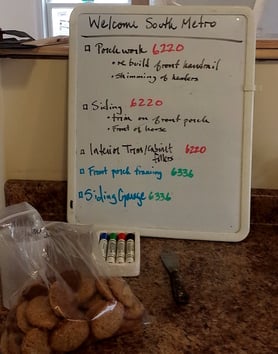 Recently they were working on two sites located on the same street in Richfield. At one of the houses, six men were hard at work, four of them were building a front porch and two were siding a garage.
When they were told that the cookies baked by volunteers had been left at the other site, they started making jokes about how the guys at that house would eat them all.
And at the site where the cookies had been dropped off, the men asked whether the crew members at the other site knew that there were cookies, laughing when they heard that they had been referred to as cookie monsters by them.
Their humor is infectious, joking about everything from how worn everyone's Twin Cities Habitat hats are to humorous accusations when one member decided to check the plans, "That's cheating to look at the plan!"
South Metro is so much fun to be around, you could almost forget all the hard work they do. They volunteer every week with usually about 10 members on site, though they are active year-round. During colder months like January and February this number drops to about 5 or 6.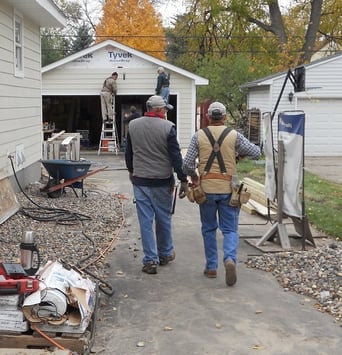 The crew breaks into pairs or groups of three on site, mindful to continually rotate so that everyone will partner with all the other members. This helps them to learn in different types of construction work and bond with other members.
Many of the men mentioned siding, laying flooring, trim work, drywall, and framing as their favorite types of construction work. A lot also enjoy the work they do in the panel plant during the winter, where they can prepare an entire floor in just one day!
This group of "retired do-it-yourselfers who like to keep busy" currently has 18 members with 4 of them having Richard as their first name, which is another thing they like to make jokes about.
"I worked at a desk for 32 years and after retiring I wanted something more physical so I got involved with Habitat and I've enjoyed it ever since," said Jerry Daml about his 9 years with South Metro.
"Power tools are great," jokes Dick Hadley, a retired orthopedic surgeon, "and the work we do for Habitat is a lot more relaxing than surgery!"