Guest Post By Habitat Staff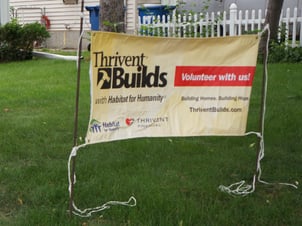 Last week a number of volunteers came together for an A Brush With Kindness project to help give a fresh coat of paint for the home of Sharon and Burton Miller. Sharon and Burton are disabled senior citizens who have been living in their home in Richfield since 1962. Burton is a veteran of the US Army Reserves, and the couple spent many years keeping up with home repairs. After some medical issues a couple of years ago, the couple is no longer physically or financially able to keep up with their home repairs.
I was approached by a veteran Steve Solmonson, financial representative with Thrivent Financial who moonlights as a pastoral student at Luther Seminary. Steve was especially interested in organizing a team to help out another veteran family through Thrivent Builds Repairs. I am still impressed and amazed by Steve's friendly magnetic draw in bringing in volunteers and community partners from such a diversity of organizations.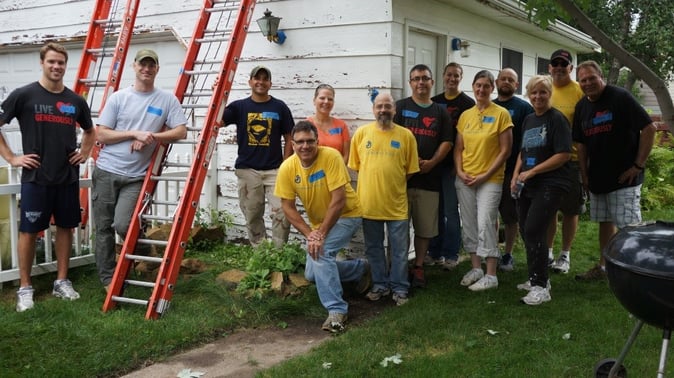 In addition to Steve's volunteers with Thrivent Financial and his outreach to various veteran networks throughout the cities, his crew was joined on Thursday by the veteran's network of General Mills, and on Friday by veteran supporters of Thomson Reuters. On Saturday his crew was supplemented by dedicated individual volunteers. Behind the scenes, Arby's and Chick-fil-A provided lunch for the crew and SuperAmerica donated bottles of water for the entire project.
I stopped out on site on Friday to meet some of the volunteers and noticed that they went above and beyond by also adding a fresh coat of paint to the homeowner's front yard steel furniture and their arbor. Sharon and Burton are very grateful for all of the hard work by all of the volunteers.