May is National Pet Month! We know you love your fuzzy friends at home, and keeping them healthy and happy is a priority for every pet owner. Whether you're picking up your very first companion animal, or you've had one for years, here are some tips to keep them safe in your home.
General
Make sure to start off by thinking about your pet's line of sight – you may even want to kneel down on the ground to get a good view yourself. What do you see that could be a potential hazard? Dangling cords? Easily accessible chemicals? Could your new puppy or kitten get stuck on a too-high ledge or piece of furniture? These are great places to begin thinking about how to pet-proof your home.
Whenever you live with an animal smaller than you that can roam the floors, you should always look below or behind you so you don't trip or open a door into your little one.
Track down and block any small spaces or holes, like under the couch or behind the fridge, where your pet might run and hide when scared. It's important to be able to easily retrieve your pet in case of emergency.
To keep man's best friend from nosing his way into the chemicals under the sink, consider installing childproof latches, especially if he's a particularly crafty dog.
Get your pet microchipped to help them find their way home if they get lost. If an animal is brought to a vet clinic or shelter, they'll be scanned for a microchip and the clinic or shelter will be able to contact you.
Living Spaces
Food left on the counter, as well as open garbage cans, provide all sorts of interesting smells for your pet to investigate. There are several foods that cats and dogs shouldn't ingest (see a list here), so put those leftovers away and use a garbage can with a lid.
Electrical cords and curtain cords are a choking hazard – keep them tied up with zip ties, Velcro strips, or cord protectors to keep your sweetheart safe. Keeping a screen in front of the fireplace or air/heat vents will also prevent them from temperature-induced injuries.
Many plants, like food items, can be dangerous for pets. Keep all plants on high shelves or otherwise out of reach, and avoid keeping those that are toxic to your pet. (See a list here)
Reclining chairs aren't a piece of furniture most people think of as being a possible hazard, but even large pets can get legs or tails caught in the moving footrest and underneath. Be sure you know where your pet is when sitting down, and look underneath and inside the chair when standing up.
Put away toys and other small items after use.

This includes sewing and craft notions, like buttons and string!
Laundry and shoes – especially those with loose buttons or laces, should be safely stored away.

Keep belts, hangers, and jewelry in out-of-reach spots.
Mothballs contain pesticides that are toxic for pets if they swallow one – always store in closed, airtight containers away from your furry friends and follow label instructions.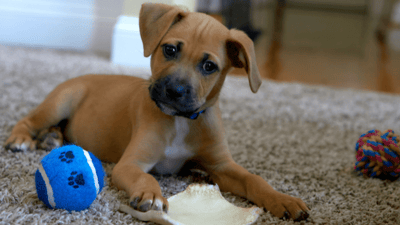 Bathroom
Keep medicines, potpourri, cleaners, and loofahs out of reach.
Unplug and put away irons and blow dryers after use – you don't want anyone to get burned!
Keep the toilet lid closed to keep your dogs from drinking toilet water or ingesting chemicals.
Always check the dryer for sneaky kittens before you start it!
Outside
Doors and windows are common escape routes for curious pups and felines. Make sure doors close behind you and windows stay shut or have a sturdy, secure screen.
Be aware of any balconies or high steps in your home that could pose a fall hazard (especially for young, small, or elderly animals) and block off these areas as needed.
Put away all garden and lawn supplies after use.
Keep lawn chemicals and fertilizers, as well as compost piles and toxic plants, in places your pet can't reach.

If you live in an area where antifreeze is used, make sure to clean all antifreeze off of the driveway. One taste could be fatal.
Chemicals used in ponds and swimming pools can also cause problems – keep these inaccessible for pets as well.

Especially in cold weather, bang on the hood of your car before starting your engine – a pet or other small animal could be seeking warmth!
Be mindful of any ticks or fleas in your area, and if your pet ventures outside, do regular checks.
Invest in a good fence to keep your pet from adventuring too far from home.
This may seem like a long list, but a lot of these are similar to childproofing your home – if a curious climbing toddler could find their way into something they shouldn't, so could your pet – except your pet probably jumps higher!

Keeping your home a safe place for your pets is an easy way to make sure that you and your lovable fluffy ones have a happy, fulfilling life together.