With the extreme snow and cold we've recently experienced here in the Twin Cities, our team of experts wanted to share their tips on what you should do as a homeowner to prepare your house for the worst winter weather conditions.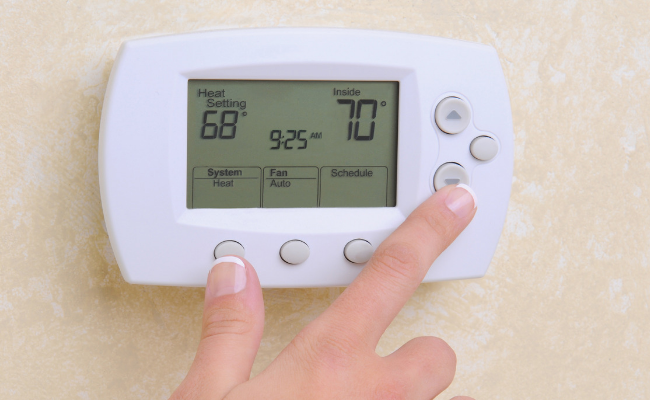 First on the list? Your thermostat. Your furnace should be running for longer, steadier times to save money.
"I like to think of it like getting optimal miles-per-gallon with your car," said Adade Amenounve, Homeowner Development Coordinator at Habitat. "Do you get better mileage on streets with lots of stoplights or on the highway? Same principle works for your thermostat. Don't crank your thermostat up or down to heat or cool your home faster—it simply does not work." Instead, Amenounve recommends changing your thermostat temperature setting only when you'll be away from home for eight or more hours. Don't constantly change the thermostat setting when you're home—it wastes money.
Take care of your water pipes. Open cabinet doors under sinks, and don't forget to check on pipes to your washing machine in the laundry room. Insulating hot water pipes can also help deliver warmer water with the added benefit of energy savings. Experts also recommend you allow your faucets to drip very slowly during extremely cold temperatures. Single control faucets should drip with the lever set in the middle.
Limit your natural gas usage. Your shower time should be shortened to 15 minutes or less to help reduce your natural gas and water bill. Be sure to check the temperature setting on your water heater—it should be set at no higher than 120 degrees. And during your shower, don't turn on the overhead vent if you have one. Let the steam build up so it stays warm in the bathroom after you turn off the water!
Also, be sure to clear snow and ice from around your natural gas meter. Accumulated snow can prevent the meter from operating properly by stopping the flow of natural gas.
Take care of your furry friends. That means no off-leash time. Keep potty breaks short and never let your pet outside and walk away. You may be tempted to move onto another task, forgetting your animal outside, which could be dangerous. Also make sure to to check paws for cracks, bleeding, or signs of frost bite, which can happen in minutes for animals that are let outdoors.
Always close the garage door. This one is pretty self-explanatory, but it bears mentioning. By keeping the doors closed, you not only help keep your house and cars warmer, but you can also prevent frozen pipes if you're water supply lines are located in your garage.
Change out your air filter. A clogged air filter can cause all sorts of headaches, like elevating heat bills, damaging the heater, and limit air flow, creating "cold spots" throughout your home.
Other tips
Stockpile nonperishable food and water
Refill prescription medications in advance of a storm
Keep your car filled with gas
Charge cell phones in case of emergencies or power outages
Have flashlights, batteries, a weather radio, and a manual can opener on hand
Make sure you have working smoke and carbon monoxide alarms and the batteries powering them are fresh
Have a working fire extinguisher on hand for emergencies
Want more great homeowner tips?